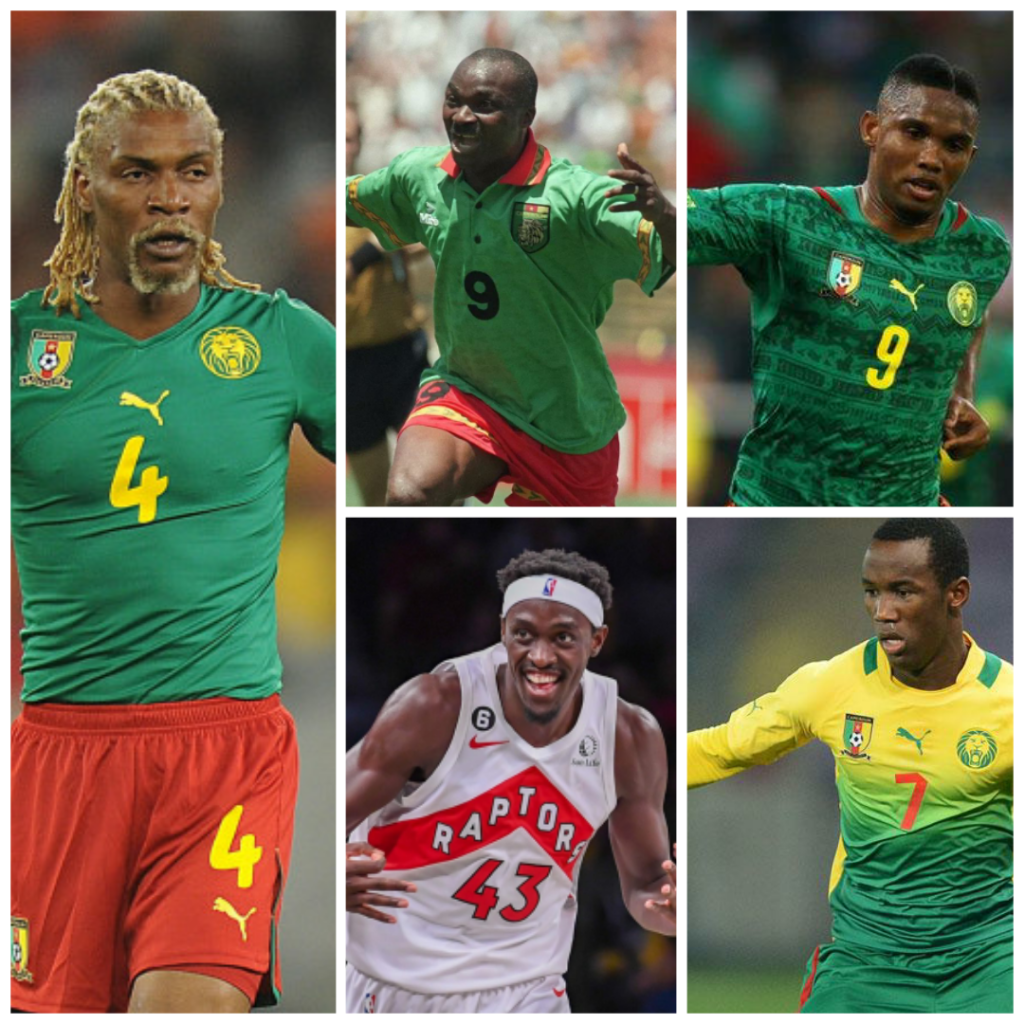 1. LARGEST FROG EVE IN THE WORLD
The African goliath frog (Conraua goliath), was captured in April 1989 in the Sanaga River, Cameroon by Andy Koffman of Seattle, Washington, USA It had a snout-to-vent length of 36.83 cm (14.5 in) and an overall length of 87.63 cm (34.5 in) with its legs extended. On 30 Oct 1989 it weighed 3.66 kg (8 lb 1 oz).
2. MOST GOALS SCORED IN AFRICA CUP OF NATIONS TOURNAMENTS BY AN INDIVIDUAL
The most goals scored in Africa Cup of Nations tournaments is 18 by Samuel Eto'o (Cameroon) playing for Cameroon between 1996 and 2010.
3. MOST CONSECUTIVE MATCHES PLAYED AT AFRICA CUP OF NATIONS: RIGOBERT SONG
The most consecutive matches played in Africa Cup of Nations tournaments is 34, by Rigobert Song (Cameroon) between 1996 and 2010.
4. OLDEST SCORER AT THE WORLD CUP – ROGER MILLA
The oldest is Albert Roger Milla (b. 20 May 1952) for Cameroon v. Russia on 28 June 1994, aged 42 yrs 39 days. During this match he also scored making him the oldest scorer in the finals.
5. LONGEST-SERVING HEAD OF STATE – PAUL BIYA
Paul Biya (b. Paul Barthélemy Biya'a bi Mvondo 13 February 1933) is the longest-serving current head of state, serving as Prime Minister of Cameroon from 30 June 1975 to 1982 and succeding Ahidjo as President on 6 November 1982. He has rules for 40 years.
6. DEADLIEST LAKE : LAKE NYOS
The lake responsible for the most deaths without drowning is Lake Nyos in Cameroon, Central Africa. On the night of 21 August 1986, between 1,600 and 1,800 people and countless animals were killed by a large natural release of carbon dioxide gas.
7. FASTEST MARATHON IN A MARTIAL ARTS SUIT
The fastest marathon in a martial arts suit (male) is 3 hr 2 min 32 sec, and was achieved by Mathieu Papdo (Cameroon) at the Berlin Marathon, in Berlin, Germany, on 29 September 2019.
8. YOUNGEST SCORER IN TOP DIVISION OF SPANISH FOOTBALL : FABRICE OLINGA
The youngest goalscorer in the top division of Spanish football (soccer) is Fabrice Olinga (b. 12 May 1996, Cameroon) who scored when he was 16 years and 102 days old, playing for Málaga against Celta Vigo, at the Estadio Municipal de Balaídos, in Vigo, Spain, on 18 August 2012.
9. FIRST G-LEAGUE PLAYER TO BE NAMED NBA ALL-STAR STARTER
The first G-League (minor league) player to be named an NBA All-Star starter is Pascal Siakam (Cameroon), as confirmed on 24 January 2020.
10. THE MOST TIMES TO RECEIVE A RED CARD AT THE WORLD CUP
The most times to receive a red card and be sent from the field of play in a World Cup match by an individual player is two, by Rigobert Song (Cameroon) against Brazil in 1994 and against Chile in 1998. He shares the record with Zinedine Zidane.
11. HIGHEST GOALS CONCEDED FROM A SINGLE PLAYER : SALENKO (5)
The most goals scored by an individual in a World Cup finals match is five by Oleg Salenko playing for Russia against Cameroon in a 1994 finals match at Stanford Stadium, San Francisco, California, USA on 28 June 1994.
#nexdimempire