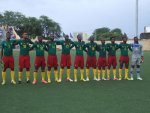 Cameroon 0, Cape-Verde 2 right after Eto'o rejects a call -up to the National Team after a suspension after a strike after disputes after the Lions lose out on the last African Nations Cup. This is the series of events that have occupied Cameroon football fans, pundits and authorities in recent times. These happenings can all be summarised into one reality: the Indomitable Lions have become domitable. Forget the chaotic and translucent management of the Football Federation and the spill-over effect on the entire Cameroonian football set-up. Forget all this and ask yourself one question: isn't it normal to lose at times? Isn't it normal for things to go wrong every now and then. Could the noise surrounding the Cameroonian football in recent years not simply be because we're not winning? If we had been winning, will people care how the Federation is managed, how local football fairs and whether or not Eto'o accepts a national team call-up ? Since the Indomitable Lion's emergence as a footballing power
house in Africa in the 80's and the 1990 exploit, an aura of invincibility has draped the squad. It has equally raised expectations which fans think must always be met. But the question asked here is whether we aren't just going through a rough patch like before. Is the federation really that badly managed and is there any correlation between a poorly-managed FECAFOOT and the Lions' field output? Right after Italia 90, our footballing prowess slumped, remember the 94 World Cup, until we resurfaced again in 2000 and reigned till 2004 before another recession set in. Do we mean do to say during those years of success the problems decried so passionately today weren't there? Or maybe they were there but nobody cared because "en tout cas , on gagnait". If this is the case then maybe the problems in the national team aren't that grievous but are blown to some unreasonable proportion by the sour sting of defeat. Aren't there countries with professional football structures who are in our situation? Take South Africa for example. For fear of retribution(lol) let me modulate and suggest that our footballing problems aren't that bad but are made to look worse because of our understandable aversion to defeat. Am I lying? N/B This piece is not and should not be construed as an excuse for the bad management of football or mediocrity.
Related Posts
Comments Off

on Polemic: Is FECAFOOT that mismanaged?