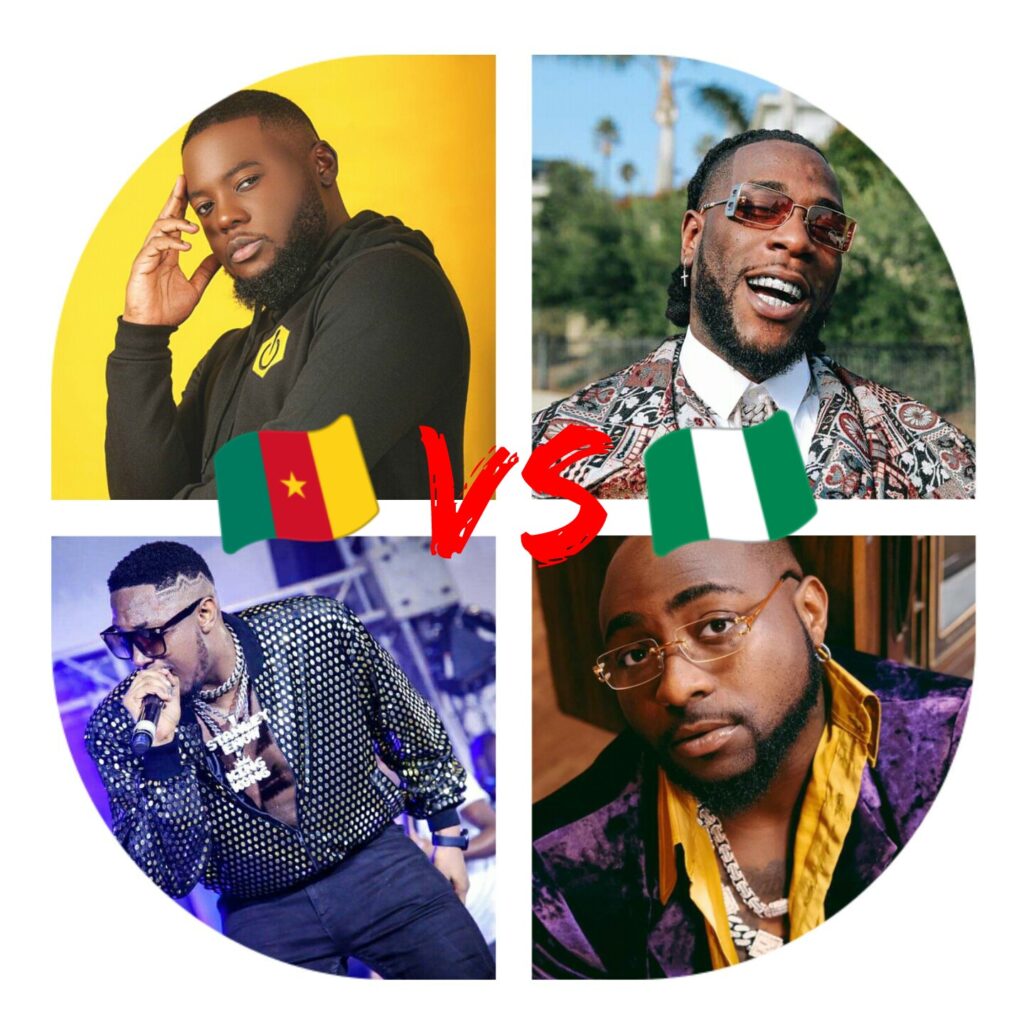 DJs, artists and consumer behavior examined. ????????????????
Stanley Enow has stated  "I love you all but stop playing  Nigerian music in Cameroon parties". A statement replete with polemic.
Recently, there's been rife discontentment and grumping across social media by Cameroonian musicians and music pundits, condemning the preference of Nigerian music in Cameroonian snack bars, clubs and events .
Our local musical content has been eclipsed by Nigerian music which has somewhat influenced our lifestyles , dance patterns and other social perspectives. Comedian Pancho now trending on Nigerian blogs, decried the engulfment of our culture which has culminated into a form of "colonization". Makossa artists are also crying foul that Cameroonian urban music is accorded attention than makossa music.
Shockingly, even our churches especially pentecostal churches sing 95 % of Nigerian praise and worship songs. Is it that our gospel artists are not composing and releasing Cameroon's original gospel songs?
DJs have been blamed for promoting Nigerian music in clubs but they have been sticking to the hypothesis that they are responding to requests from their audience who prefer Nigerian music.
From a  random survey,  it is evident that Cameroonians listen to Nigerian music because of the relatable lyrics , the beats and the creative dance patterns.
Musicologist Theodore Mboua once said Cameroonians fall in love with Nigerian music not only because of the proximity of the two countries but also because of the messages of hope, especially for the unemployed and poor youths that are prevalent in Nigerian music;
"The message , most of them talk about marriage , talk about getting rich and that is of course what people want to hear, so it translates into music. Then religious messages have an impact on peoples lives and so most of that is passed on by religious music of course from Nigeria".
To an extent, I believe he's right. Artists have to tailor their lyrical themes towards that direction and use our divergent traditional rhythms that work for them.
Witty Minstrel has proven that you can blend our local traditional rhythm and a good message to win the hearts of Cameroonians. Imagine 10 artists follow the same trend and release songs with good messages sticking to a similar rhythmic formula.
That's what Nigerians do to have a long playlist of trendy songs. See for instance  Runtown "Mad over you" "For life" , Davido 'If' , "Fall' , Tekno "Pana"  . They were all adapting to the "pon pon" kind of beat and trended on playlists across Nigeria and Africa.
Naira Marley has brought a new wave of beats and a dance pattern, most Nigerian artists are emulating the same rhythmic formula to make hits. Nigerians are smart and  good at capitalizing on trends.
The "Njang"wave  which has room to invade Cameroon will soon fade out like a candle taper without other artists capitalizing on the trend. That's a problem. Think of all the hit songs  we had this year, how many have a similar musical pattern that can be queued and synced in a nightclub playlist.
Like Nigerians, KO-C has been able to contextualise similar messages of hope, hustling with menial jobs to make a living and aim for a breakthrough, getting rich through hard work,  presented through story-telling, which has been working for him.
What he does is elicit positive messages and relatable stories intertwined with some originally Cameroonian rhythms.
Normally, Africans like being motivated about success. They like prosperity messages , pessimism and blessings from God.
I bet you, KO-C is having considerable airplay more than some A-list Nigerian artists because he has understood the Cameroonian mentality . This simply means "together , we can" . I realized music consumers react to music that is pleasant to the ears and instill in them a comforting and soothing sensation regardless of where the music comes from.
The recent Ridimz song "Dipita" follows the same rhythmic pattern  like KO-C's "Calecon" . There's  no doubt the DJs will weave it into their mix. We should think theme, think dance , think tempo.
We should be asking ourselves if our audience can seamlessly jive to local music content for 3 hours in a club without getting bored. If artists succeed in giving the public such tuneful content back-to-back, they shall be loved and the consumers will eventually start supporting their own.
For Nigerians to invade the minds of their own public, it took a lot of patience, consistency , understanding what their audience love and making music tailored for that audience. Another artist who understands this formula is Maahlox. I saw how he made a hit "Tuer c'est tuer" on the heels of Franko's 'Coller la petite". A similar rap and beat trend.
Attempting to implement a protectionist policy without artists seeking to impress the Cameroonian audience and build a love mark will be retrograde or counterproductive .
In a globalized world, musical frontiers have become blur due to Youtube and other social media platforms .
Cameroonians have developed obsession for Nigerian music for over two decades in such a way that they go on Youtube to check out the latest Davido , Burna Boy, Wizkid, Fireboy , Rema and Yemi Alade  releases. This consumer behavior started from the invasion of their movies in the 90s.
This behavior has a ripple effect because they'll definitely order the DJ to play what they've listened to and trending on YouTube and social media.
Our artists have been releasing breathtaking music content within the past years.
But in a competitive entertainment industry, we have to step up on formulaic musical elements that attract consumers. That's how Nigerians captured the minds of their audience who preferred Craig David, Usher , R. kelly and 50 Cent.
Let's not lose sight of the fact that Nigeria had once been in the same situation where American and British music was getting massive play in nightclubs until early 2000s , when there was a reversal in consumption patterns.
Artists like Paul Play, Daddy Showkey, Sound Sultan , Seyi Sodumu and Tony Tetulla had decried the invasion of foreign music in the 90s .
If our DJs have to start playing 70% of our content, our artists will have to continue doing music that appeal to the taste bud of the consumers, meaning understanding themes they like and igniting social trends with music .
It'll be difficult to change their behavior if we can't deliver.
The DJs however aren't free . Their associations should be making resolutions this year to select a collection of propitious Cameroonian music to gradually impose on the consumers. If they play the songs recurrently, they'll have no choice but to accept what is being played.
DJs have a salient role, they can make music trend. Even when artists give them tips, they'll play an artists' song only when he's in the snack bar or club.
Once he leaves, his music is kept under the duvet.
In South Africa , it's the quota system ; government has imposed a protectionist policy to play 55% of local content on radio and TV platform. Nigeria has a similar policy of 70% protection of local musical content.
In Cameroon , though it'll be difficult to stop the infilteration of foreign music,  because of digital globalization, we can adopt the quota system.
We can as well strive to change conventional consumer behavior and become more competitive by producing music that suits the needs of the consumers. By doing so , consumers will gradually develop a lovemark and outmatch Nigerian music.
What's your opinion ?
#nexdimempire