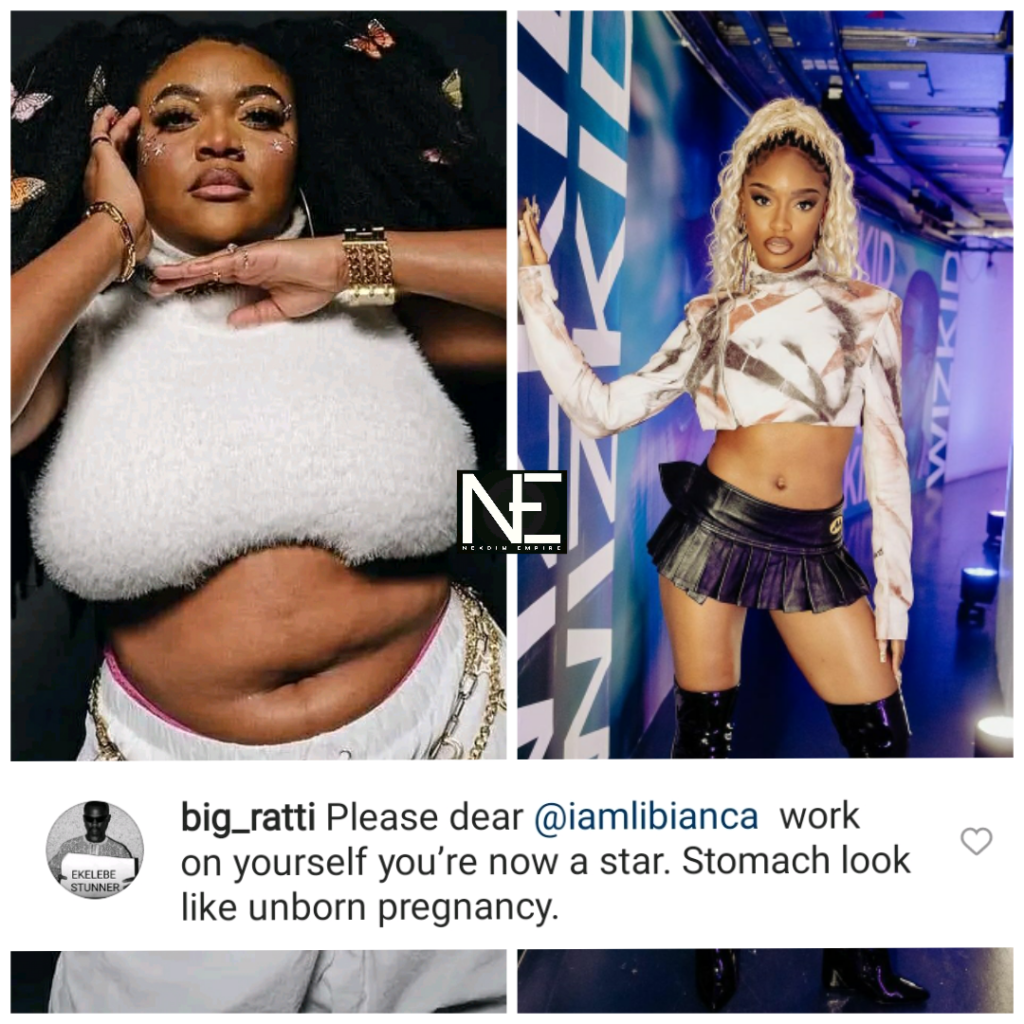 Despite being subjected to body-shaming, Libianca keeps exuding unparalleled confidence.
She is proud of her so-called imperfection and flaunts her natural stomach unapologetically.
"If you don't likey juicy stomach SMD" – Libianca
Libianca is beautiful and enormously talented.
However, some fans are concerned about her fashion sense, body-revealing style and crave for an ideal body.
From collated comments, some fans want her to wear dresses that suit her body type, some are very okay with her music and careless about her fashion sense, while some are just trolling outrightly.
The constructive criticism comes from a place of love.
In the competitive pop music culture, fans are so much interested in the visual identity of an artist. This comprises lifestyle, fashion sense, branding and physical appearance. The visual identity of an artist serves as a lead magnet in the mainstream music industry and some fans are very keen on this.
It is quite evident that fans connect to visual identity just as much as sonic identity, which is the music.
Visual identity engraves an artist's personality in your mind and gives that role model status; someone's personality they admire and can look up to. Nigerian artist Ayra Starr is thriving in this direction.
A lot of times the Attractive/Talent ratio is inversely related – the better you look, the less musical ability you need to have. Looking good and producing topnotch music is sterling.
While some people want Libianca to have a flat belly, it is important to note that artists can be successful in music regardless of their looks. Teni made her biggest hits while she was plus-sized.
It is paradoxical that fans who put Teni under pressure to lose weight are now criticizing her for becoming skinny. Humans will hardly find what's ideal.
For now, Libianca's talent eclipses the derision about her body. Her streaming numbers keep increasing with her hit song "People".
The good thing is; Libianca feels comfortable and she is not badgered about the criticisms, that's why she keeps showing off her belly.
Flaunting her imperfection, gives confidence to a myriad of people who are body-shamed. She is making efforts to lose weight. It is a gradual process.
#nexdimempire