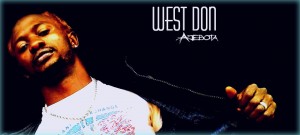 Kumba-based "Ajebota" king WEST DON  has declared his intention to file a legal suit against event organizer and presenter of  "Friday Nights Out" Prince Mykel Enobi on the count of using his brand name and image on posters ,flyers and video spot of an event to take place during the opening of the University games on Saturday at Amphi 750, University of Buea without his consent.

Despite several pleas to let this matter go, the Afro-beat artist West Don who calls this act a flagrant disrespect and a  stain to his image wants to put the event organizer behind bars . Cameroonian artists are gradually drifting to intellectual property rights .
If the artist , WEST DON is a registered brand and if copyright applies to work that is recorded in some way; rights exist in items such as literary, artistic, musical and dramatic work as well as films, sound recordings and typographical arrangements, it could be an act of infringement or plagiarism which calls for a legal action . But he may not have a point , if his brand is not been registered. Or what do you think ? .
He declared that Prince Mykel has to sign an undertaking to pay a  damage of 50,000 frs . Where is Cameroon music industry driving to ?