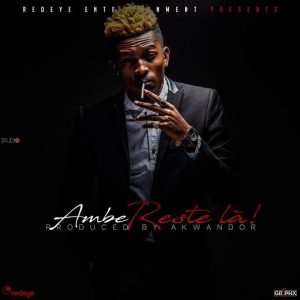 Camer's popular Bafut pikin; Ambe, is back on our screens with a new attitude, one of a Bad boy!
Red Eye Group just released the visuals of Ambe's new track; 'Reste Là.'
Reste Là is a song produced by the phenomenal; Akwandor, aka Blaise B. It is a mid-tempo song that unravels a certain level of sexual intimacy that a guy can share with a girl he loves.
The video was directed by NS Pictures and it leaves us in awe! In previous videos, we have seen Ambe portray the role of an ambitious guy from Rendezvous in Bamenda, a Better boyfriend, and a loving partner, but this time he is a reckless womanizer!
The video depicts how casual and insignificant sex is, in this generation, especially with the use of instant messaging and social media. Ambe exposes this vice so that people can be aware of its implications. This is one video you would enjoy watching! Click below to watch!