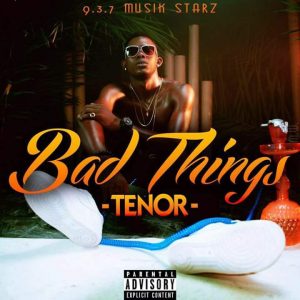 Cameroon Hip-hop has witnessed a dramatic progression after the emergence of trail-blazers Jovi and Stanley Enow. 
Tenor is a rare Cameroon Hip-hop breed with fast-paced fame and a growing fan base . His unique brand identity, great showmanship and style has created a strong  audience love-mark and media attraction. Tenor's breakthrough hit singles under War Machine "Do le dab" followed by "Kaba Ndondo" which had a neo-Bikutsi/Hip-hop undertone established proof that the rapper was hungry , he had that deep determination to blow. 
After parting ways with War Machine owned by Dex Willy, Tenor has completely changed his sound. 
For some he's been destroying the connection with his fan base. Other music pundits say he's just moved to another level of showbiz, entertaining and creativity.
He may have fallen in a quagmire or making a landmark ! 
His recent tune "Bahatland" and video "Bad things" give mixed signals. Some fans have endorsed his change and creativity while some dislike his new identity. 
Tenor displays illuminati and sex symbolism,  for mind control controversy.  But does it work in Africa ? 
We have all known of successful and very gifted artists who may have had several major hits …only to be followed by another record that totally bombs.
Perhaps because Tenor has started allowing himself follow the luxury of writing and performing esoteric melodies and cryptic lyrics that, while personally profound and artistic for him, have absolutely no connection with the average radio listener or clubber. And when your listener gets lost, they change the channel !
Is he on the right path or falling ?