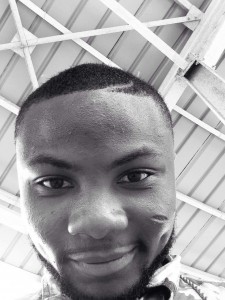 The ingenuity to make a hit record immensely requires the input of the producer.
Cameroon's burgeoning urban music experienced a dramatic change in 2015 with a cream of hit songs produced by Buea-based producers:  Maahlox – Ca sort comme  ca sort" (Prod. by I.V.O) , Mr Leo – On va gerer" (Prod by Salatiel)  X Maleya – Doumba (Prod by Phillbill Beatz)  etc.
There is no gain saying the aforementioned producers massively contributed to make these hits.
Buea-based Trilby (I.V.O) Mbou is an under-rated producer and singer who crafted one of the biggest songs in 2015 " Ca sort comme ca sort" yet remains unnoticed. He also produced Maahlox's impending single "Tuer pour tuer".
The young talented producer and R&B singer has been resilient,  focused and committed chasing his dream.
Listen to his Cover of Justin Bieber's "Sorry".
In 2011, he knocked severally on the door of Sona The Voice's label Intercession Records and other labels craving to be signed which turned futile.
Through travail, I.V.O is today a name that deserves respect.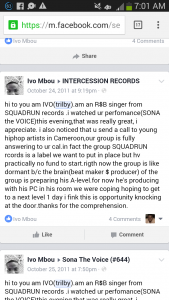 Watch out !