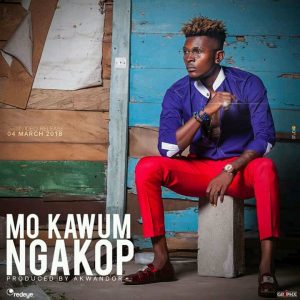 It seems "Vitesse" crooner AMBE has been disgruntled with the way bloggers go about with their job in the entertainment industry .
He took to Facebook to frown at bloggers who smear artists just to gain attention terming them "Parasites ".
This outing by the Bafut pikin has ignited a heavy backlash and it seems he just jumped into a lions den. He has been receiving badmouthing reactions from bloggers .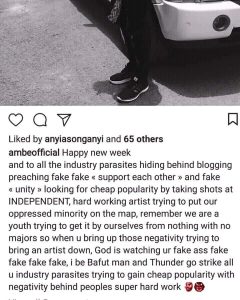 Emmanuel Mfon who owns 237showbiz has directed a torpedo of insults at Ambe blasting him as an artist who went naked just to gain fame yet is still an up and coming artist. He termed him a sousongo artist. We don't know that means .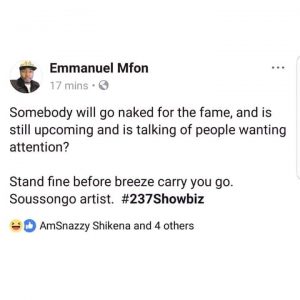 Speculations are rife that Ambe' s shade was thrown at Valery Attia who went live yesterday to talk about Blanche Bailly.
Artists like Salatiel and Askia have supported fellow artist Ambe' s claims .
Askia promises to give Ambe a kiss for that . ???