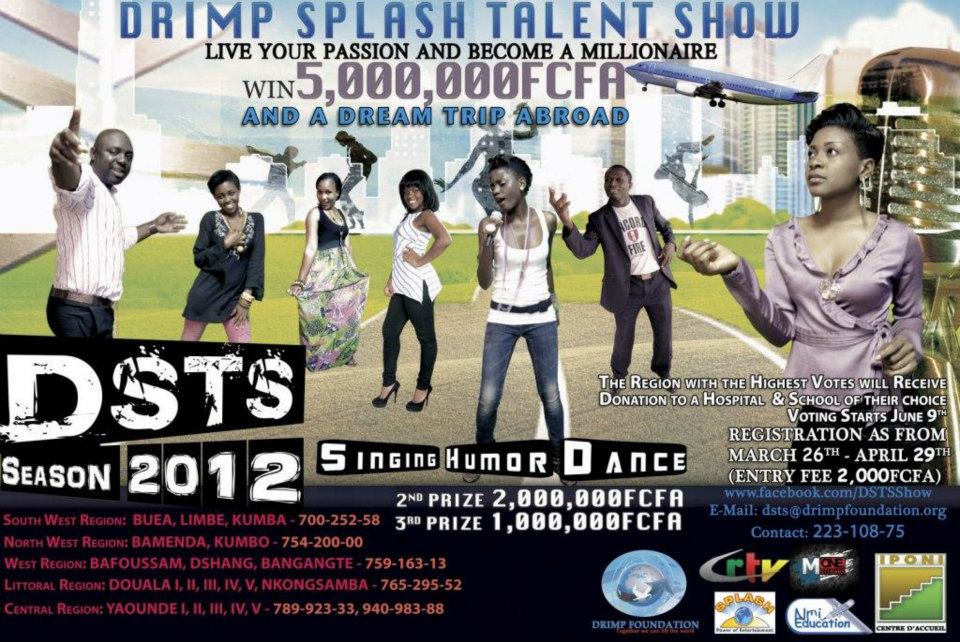 Registration for the "Drimp Splash Talent Show (DSTS) season 2012" is on-going .This Cameroonian TV reality Show is a broader and refined concept of the defunct "Gospel Musical"  which aired on CRTV. You'll now experience innovations like humour , dancing and more exciting moments. DSTS is an initiative of Drimp Foundation in conjunction with Splash Networks. Voting starts on June 9th . The Registration Fee is 2000 frs CFA. Contact dsts@drimpfoundation.org or call 223 108 75 for inquiries.
After failing to satisfy the expectations of many Cameroonians during 'Gospel Musical 2010", much has been clarified by the organizers on the GOSPEL MUSICAL Facebook page. Here is an excerpt;
''A little over a year ago, DRIMP Foundation went out flat to sponsor the promotion of gospel music talents. The first edition ended with the winners being showcased through television stations, concerts and a video and audio album. This costly venture was single-highhandedly sponsored by DRIMP Foundation that was barely a few months old. In fact the venture was going on at the same time as the foundation was being created. Motivated by the passion to help Christian youths to express their god-given abilities, the foundation in excitement spent way over what would be advisable of a young institution that is solely dependent on the savings of the founder. No doubt Gospel Musical could not be run in the following year as was planned.
DSTS (DRIMP Splash Talent Show) is in a way an enlarged vision of Gospel Musical. DRIMP Foundation and Splash Networks founders (Rogers Nforgwei and Cyril Akonteh) found grounds to join their efforts and create a pleasurable mix of entertainment and empowerment of the Cameroonian youth and their community of origin.
In DSTS, the talents have been widened to include gospel songs, dance and comedy. We are convinced this will feed the souls of the contestants and the public at large with joyous and exhilarating moments in times where poverty and sicknesses have planted deep sadness and frustrations in both individual and community life.
The prizes to win have been tailored to benefit the individual and their community for the purpose of promoting community care, community service values and spirit of mutual help. DRIMP Foundation's motto says "together we can lift the world". While the winner gets cash prize, his community gets donations to the community health centre/hospital and to the community school.
DSTS – the only initiative that offers both the opportunity to have fun and wealth in an impactful fashion".
Be a part !