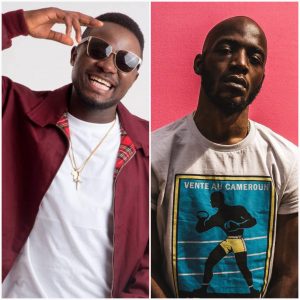 In 2017, Pascal severed ties with Jovi's New Bell Music and later inked a record deal with Strange Kings . He churned out "Paapi" and "Benediction" under the imprint which was a complete swerve from his original style under Jovi's  mentorship and according to pundits fell short of what people expected from him.   Pascal's relationship with Strange Kings gradually deteriorated to a level where he was filed a law suit by the label for breaching the contract. 
Things have never been the same since Pascal left New Bell Music.  His popularity and following has gradually dwindled like a candle taper. He incurred huge debts while under Strange Kings and could only regain poise when he dropped "Pikin 4 Sun" EP.  
Pascal has been through a career ordeal and he seems to have learned from his mistakes . 
Sunday , May 5th, the "Check sense" crooner Pascal took to Twitter to declare he misses every second working with Jovi. This has triggered reactions from fans. 
He is now showing respect, remorse , admitting responsibility and trying to make amends with Jovi.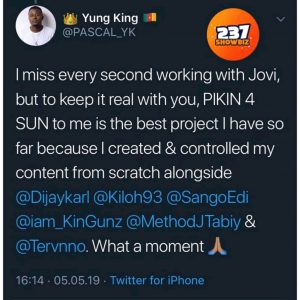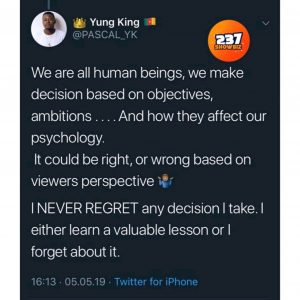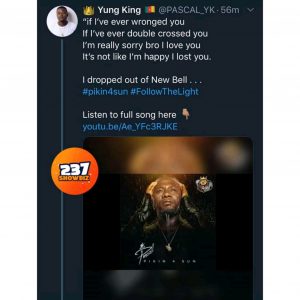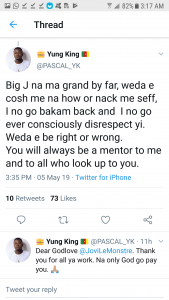 From Jovi's responses to Pascal's tweets , he apparently felt hurt by Pascal's actions and innuendos after he left New Bell Music. His reaction insinuates the fact that Pascal has been claiming creative authorship of the song "Check sense" . Jovi has come out to clarify how the sing came about .
Pascal who appears susceptible has acquiesced to Jovi's massive influence on his career and showed gratitude for all he's done for him.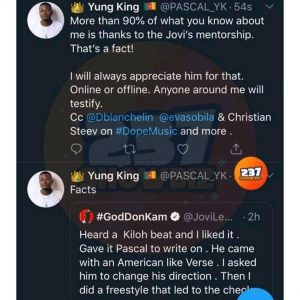 Jovi is still hurt but willing to let go the past. He has accepted  Pascal's apology still mentioning him has his best rapper .