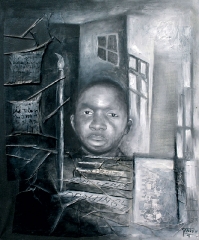 Born on the 10th of April 1981 in Cameroon, Emmanuel Tang Ngong commonly called "Tango" grew up having  very little exposure to extra-curricular activities due to his strict upbringing. He therefore spent all his time either studying or drawing.
In 1990, he was initiated into painting by his elder brother Felix Tang. With one additional element added to his drawing passion, Tango started achieving fame in school as he started wining competitions.
He won his first competition in 1993, organised by the British Council in Cameroon . He won also many competitions while in High School and left many paintings in the school auditorium before  graduating in 1999.
Tango read Political Science and Public administration in the University of Buea , but was still very prominent in Fine Arts. He was awarded Best Artist in the university twice (2001 and 2002). He also represented the university twice in national festivals and earned honorary awards. He painted 'The way of the Cross' paintings for the University Chapel, and decorated the cultural village of the university of Buea.
Tango defied all odds to make his childhood passion a dream career. He endulged into full time painting in a bid to discover his true self. He painted from landscapes to abstract and figurative paintings.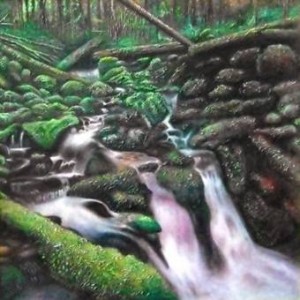 His first solo exhibition in 2004 made a complete sell out. That was the advent of the construction of his road to fame. Today he is one of the most prominent Artist in the country, and amongst the very few to own a personal Gallery.Most Art critics view him as a new Painting revelation in Africa.
Tango has exhibited in almost all prominent Galleries in Cameroon.He has a very wide collection in Cameroon ranging from the National Museum, top hotels, galeries, top Government officials and Businessmen. His paintings have also been collected and exhibited in the USA , France , England and Sweden .
For more review visit http://www.tangofineart.com
http://www.flickr.com/photos/tangofineart/