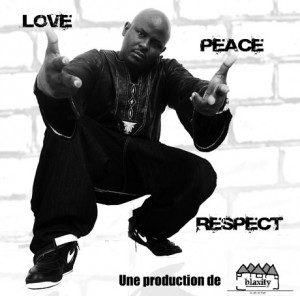 Tony Nobody 's brand new album   "Love, peace, respect" has been in stores since July 20th , 2010. It is an 18 tracks album which features artists like X Maleya, Bobby Shamahn, Miles, Babou, Adah, Sidney, Supremede la confrerie, Black la rue, 20 cent, Terry P, Mervey, DJ Sunshine, and DJ Panebo produced under the label Blaxity "La cite de l'art ".
In this album dubbed  "love, peace, respect" , Tony Nobody depicts the themes of love, betrayal, migration, social conflict, and hope.
Bio
Father of three lovely kids (Jeff, Ruben and Anouchka), Tony Nobody shares his life with his beautiful wife,  Jacky.
Paul Tonyé Marcel a.k.a Tony Nobody was born in New Bell, Douala . After high school, he preferred to pursue a career as an artist. Nobody has been imposing on the landscape of hip hop in Cameroon with radio broadcasts  (Bled city on Nostalgie), TV (Mboa on Canal 2), events (Sprite Hip Hop Festival , Mboa Hip Hop Awards . He is the founding member of the group, Bantu Posi, (with his cousin Feros) "Guichi K and Diblai D now Final D joined us ," he said.
He left Bantu Posi in 1998 . He quit the group after a concert with Kassav due to some misunderstanding with the band's manager then , Theo Mbouma Bissai. Same year, he joined DJ Rene Cool's  label, So Sound Records.