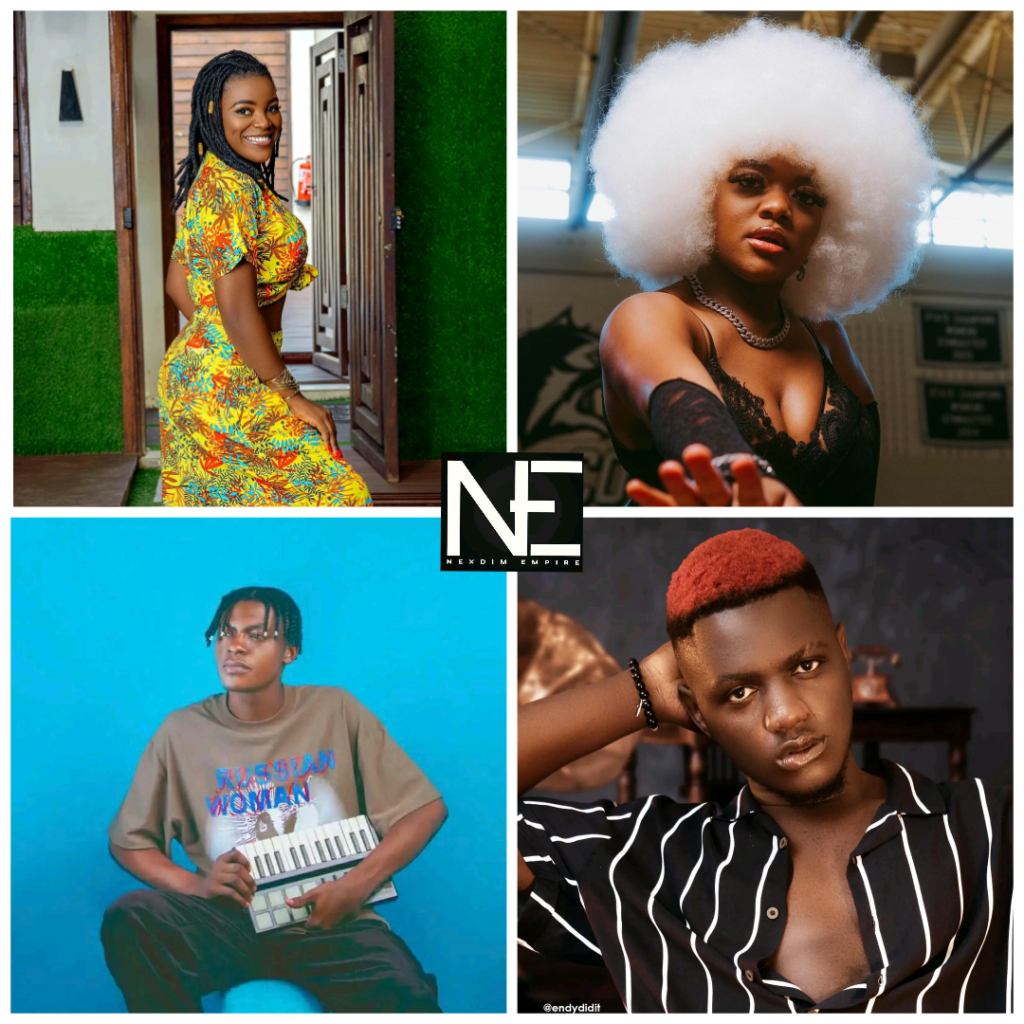 Creatively, the Cameroon music industry made remarkable strides in 2022.
The Digital promotion space, the streaming numbers of Cameroonian songs spiked exponentially. However, Cameroon is still witnessing underdevelopment or stagnation in the internal music structure; publishing, distribution and royalties, which makes it unconducive for music talent to subsist.
The creative side; singers, songwriters and producers did an exceptional job. Phillbill , KRYS M and Rinyu created music that carry Cameroon's inherent cultural imprint; Assiko, Ben-skin and Makossa respectively.
It was a testament to that fact that Cameroon has exploited traditional music, that can be transformed into mainstream commercial music.
The following breathtaking albums/EPs were released;
Mic Monsta Official – The Stars Are Watching , AWU Acapero – Sounds of Heritage, LOCKO – Era (40,000,000 cumulative streams), Slimbeatz Slimbeatz – Overload, Magasco – Love in transition, Tzy Panchak – Love & War, Ko-c – Genesis and Asaba – Lighter
The year 2022 started on a slow pace but gradually gathered steam halfway. June was a hallmark of music releases.
Tzy Panchak is one of the artists who debuted the year with "Grind", a song with saw him prove his versatility as a rapper. Later in June, he assembled 11 budding artists on the project "My Life".
Tzy Panchak released an album "Love and War" in July 2022.
He threw the spotlight on young artists like Lill Humble, Wax Zey and Babi C. In August 2022, Tzy Panchak merged forces with Vivid Smith, Salatiel, Cleo Grae on "L'homme est mauvais".
In terms of international collaboration, the percentage in 2022 was generally low. We however had some prominent collaborations.
In February 2022, Blanche Bailly collaborated with Nigerian artist Joe Boy. The Youtube views stand at 3.5 million . Blanche became the first Cameroonian artist to be nominated for Nigeria's coveted Headies.
In March 2022, one of Cameroon's frontline artists Stanley Enow made a giant move to collaborate with prominent American music producer Scott Storch on "Parapariparo". Upon release, the song rapidly received critical acclaim. Many pundits expected the video to perform better in terms of Youtube views.
Tenor's collaboration with Innoss B released in May 2022, was immensely hyped but received an underwhelming attention from the Cameroonian audience.
In July 2022, Indira released a collaboration with Ivorian artist KS Bloom titled "Il est la". The song, written by Salatiel has amassed close to 8 million Youtube views.
KO-C made impressive collaborative moves. On his album "Genesis", he featured Sarkodie, AV, Victor AD , Innoss'B and Falz.
Tenor.
Charlotte Dipanda's service was employed by Fally Ipupa on "Garde Du Coeur" released in December 2022.
In June 2022, Krys M released "Chacun Sa Chance", unarguably the trendiest song of the year . Krys M's song is an ingenious mutation of Benskin from the West region of Cameroon.
On June 3rd, 2022, Cysoul released the video of "Je Tombe Aussi". Cysoul was one of the most sought-after artists in 2022. He ended 2022 as one of the most streamed Cameroonian artists on Boomplay.
Phillbill's "La Cle", a contemporary redefinition of Assiko, made a massive impact following its release in June 2022.
Vivid Smith equally dropped a sizzling tune titled "Bogolo" in June 2022.
Some songs released in 2021, gained traction in 2022. For instance;
"Nchemty" by Maxy Manorh in September 2021, enjoyed tremendous success 2022 following its video release. It is one of the most successful culturally-inclined songs in recent years, after Witty Minstrel's "Be Proud".
Rinyu's "Controller" had a snail-pace upon release in early 2021 but gradually turned into an infectious hit in 2022.
Her label Akumba Music made a surefire decision to get Locko on the remix. The results have been awe-inspiring.
Mimie dropped "Faya" in August 2021, but earned breathtaking success in 2022. It was however not a rosy year for Mimie as her got into a legal confrontation with her label Empire on grounds of exploitation.
Kameni make frantic efforts but unfortunately could not reproduce her previous success with "Papi" released in September 2022. It was however a good song.
In October 2022, Salatiel released "Sucre Nouveau", warmly-endorsed by the Cameroonian audience.
Mic Monsta was one of the most consistent Cameroonian artists in 2022. The Kwata Music head's business acumen has been unparalleled.
He developed a great visual identity and exuded outstanding leadership. Mic Monsta is the only Cameroonian artist who successfully released projects of artists under his label. We discovered singer Marnick Official and enjoyed good music from Torch City.
Locko stayed on top of his game in 2022, his chef-d'oeuvre "Era" was a major hit. He released "Bloque" in March 2022 and ended the year enjoying relevance due to his mellifluous vocal contribution on Rinyu's " Controller".
Witty Minstrel kept on feeding from the granary of his 2021 hit but he remained consistent with releases like Generous Africa", Virgin Africa', Identity Theft, Reconnection, "Gracia, "The Boiz From Nso" featuring Shey Lontum and Neglect Buri. Witty ended the year with "Joro" .
This brings us to Shey Lontum, who equally had a fruitful year with the release of "Ngeh", an addictive traditional masterpiece.
Gomez was indisputably one of the trendiest artist in 2022 following the release of "Woman" and a sweet-sounding collaboration with Cysoul "Family".
2022 witnessed the emergence into spotlight of a new breed of super-talented Cameroonian artists; Loic Sumfor , DRIZZ , RAIZY , Slimsingah , Martins and Sabrina Love .
The new wave of artists are earning satisfying numbers on Tiktok and streaming.
Loic Sumfor has been tenacious. In 2022, he dropped "Deja Vu", collaborated with FUL on "Misbehave" and "Perfect", currently one of the trendiest songs in Cameroon's musicscape.
Young budding talent Raizy took Cameroon by storm in November 2022 with a radio-friendly and soothing tune titled "Bread".
Drizz made a striking debut with " Tif Man Moto" , later "Bestie Party" and released an EP titled "Small Talks"
Dulcet singer Martin's who had collaborated with Stanley Enow on "Ghetto in December 2021, came stronger with a thumping Afrobeat tune titled "Five Star" featuring Sabrina.
Slimsingah came through with 'Life Of Slim' EP.
"Lande" by Fadil Le Sorcier and KO-C also had a viral effect follwing its release in November 2022.
2022 wrapped up on a high gear. US-based Cameroonian artist Libianca released a smash tune "People" , which is currently positioned 9th on Billboard US Afrobeats, an unprecedented success for Cameroon.
The Cameroonian Diaspora artists have for long battled with strategies of penetrating the African music market, to have their music heard. Libianca's journey to success is simply invalidating the conception that a Cameroonian Diaspora artist cannot succeed without relocating to Cameroon.
Another diaspora artist who imprinted a mark in 2022 was Ulanda. She started the year with "No Way" featuring Askia, and "Doing me well" in November 2022.
US-based artist Djara also made decent efforts to have his name inscribed in 2022. He released "How To Love", featuring Liinx under Djamari Entertainment.
Tayc keep conquering in 2022. He collaborated with American singer Jason Derulo, Vegedream, and Zaho. He had more performances than 2021. "Sans Effet" was his biggest hit in 2022.
Cameroon's urban music industry is making up the leeway. It is looking promising and 2023 could be better considering the projects that are underway.
#nexdimempire