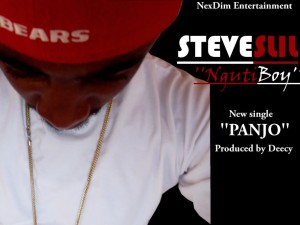 Criticisms have been hurled on artist and CEO Steveslil since the release of  a remake of T-Pain's "Buy you a Drank" off the Epiphany album . Steveslil who contextualized the song to suit  Cameroonians, is currently baring his fangs through social networks following criticisms by some pundits on his "Buy u shack". video. They buttress their arguments that he is just trying to garner fast popularity with the song cashing on T-Pain's glory.  Or does he want to do it the Banky W way ? 
According to the R&B crooner, " First , I'm a T-Pain fan. I used his  instrumentals in a mixtape I failed to release in 2010  . This is the only song I released from the mixtape. I remade this song in Cameroonian pidgin, just to contextualize it and bring it close to the people with a comic approach. Since people loved my remix, I decided to shoot a video. So everyone has a right to an opinion"
Steveslil's ability to compose his own songs has been questioned by some pundits. But songs like  , "Panjo", "I go marry you" and more released after "Buy u shack" still keep him on the pedestal ."My best is yet to come" says Steveslil.

Watch the video