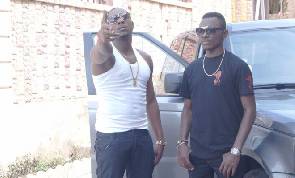 Following the reported murder of Gaelle Tatiana Meye Medjo , student of University of Yaounde II , on the night of June 22nd in Yaounde, there has been a massive proliferation of rumours that Stanley Enow and Dynastie Le Tigre are accomplices to the murder.
After thorough findings, it has been established that this is a premeditated attempt to defame Stanley Enow's character and drag his career in the mire. The MTV award-winning artist is not a member to the suspected "Golden group" on Whatsapp and was in London when this act was taking place. He is not omnipresent. He has therefore reacted to the allegations on Social media warning all his impostors .
"Good day dear all.
Due to the increasing and reoccurring usage of my image and my name by ill intended people in an attempt to jeorpadise my career, I call on you all to be more vigilant.
I hereby confirm having only ONE Facebook artist page which is STANLEY ENOW OFFICIAL, a verified account by Facebook with the blue tick. ONE personal account which is STANLEY ENOW and which has already reached its 5000 friends limit. ALL other accounts in my name are FAKE created for ill purpose.
Information has been provided to my staff and I evidencing the use of the name STANLEY ENOW on the instant messaging mobile application, WhatsApp, in order to deform my character.
I firmly request these individuals to stop this act with immediate effect and I reserve the right to take legal action regarding any prejudice that my character might suffer.
I will like to bring to your knowledge that I am not in any way be it directly or indirectly involved in whatever controversy resulting from the fraudulent usage of my name and image.
Thank you
Stanley Enow"
"The bigger the money, the bigger the problems" was his reaction on Twitter.