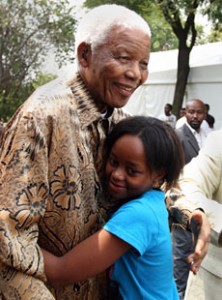 Former South African president
Nelson Mandela
will not attend the opening match of the World Cup today after his great-granddaughter was killed in a car crash, the Nelson Mandela Foundation said.
The foundation said in a statement that Mandela, 91, learned of the death of Zenani this morning.
"It would therefore be inappropriate for him to personally attend the 2010 Fifa World Cup opening celebrations," the statement said
Zenani Mandela
, 13, died last night on her way home from a concert in Soweto to celebrate the opening of the tournament today.
No one else was injured in the crash. A Johannesburg Metro police spokeswoman,  said the driver of the car, a man, had been arrested and charged with drink-driving. Mamonyane said the driver, who police would not name, could also face culpable homicide charges.
"The Metro police found that he was drunk," Mamonyane said. "He lost control of the vehicle and it collided with a barricade."
The Mandela foundation has also denied reports that the former president's ex-wife
Winnie Madikizela-Mandela
was in the car.
Madikizela-Mandela was treated for shock at a hospital after being informed of the accident and the death of her great-granddaughter.