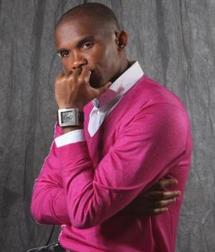 According to The newspaper "L' Observateur" relayed by the website www.rewmi.com,
"Fatou-Fatou" thirty-one years old, residing in Milan since 2006, has filed a complaint with the police of that city claiming  Cameroonian international striker Samuel Eto'o has impregnated her and  threatened her with death if she refuses to abort.
Here is an excerpt:

In the long interview she gave to various Italian newspapers, she said:
"I have lived in Milan since 2006. I take my physical strengths to work as a model. During Autumn 2009, I was invited by African friends to a dinner at the Moroccan restaurant "Yakut". On this occasion, I was introduced to a young footballer from Cameroon who plays for a club in Milan, from Spain. This person told me that he was a famous football player acquired by Inter and his name is Samuel Eto'o Fils, " says the girl to the newspaper," Il Giornale ".
"At the beginning of January 2010, I received a phone call from Samuel Eto'o asking  me to go out with him that  evening. We went to the hotel bar "Bulgarian". Since that night, he started to call me with insistence using the  telephone number: 3316864 … Our fourth meeting was held on a Wednesday, after a game played at San Siro, late in the evening. He insisted, so finally we spent the night at my house.
At one of my questions, he said he was not married, does not have a child and has no emotional relationship with another girl. That night, we made love for the first time . Since then, we saw at least twice a week. Our meetings were held either at my home or the Via Spiga in Milan. Samuel had never wanted to use condoms despite my recommendations, " She adds.
[smartads]
" I called Samuel who was in Spain to tell him about my pregnancy. He said he did not have time before asking me to abort saying this child I'm bearing should not be born. I explained that I am Muslim and my religion does not allow abortion, and frankly I do not want to kill my child. "
Samuel replied: 'I have four children and I can not keep another child'.
"I am still amazed. "
On April 9, the African star  returned to the attack:
"You treat me like I was stupid making up stories to avoid abortion. You have to do what I say and not get angry.You are stubborn, but if you don't abort , you will have the blame. "
Later, Sunday, May 2, at about 11 am 47 after the words of the Senegalese, this is what Eto'o says:
"If you don't abort the baby, I'll kill you as soon as I return to Milan.We are Africans and you know what we, Cameroonians are capable of doing  to women who pose us problems. You no longer have to try to see me, I am not Senegalese. Nothing binds us. "
more on  http://www.rewmi.com
[smartads]