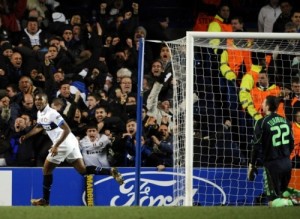 Inter Milan confronted Chelsea FC  at Stamford Bridge in the 8th  finals of the return leg of the Champions League 2009-2010.Inter Milan had a  goal advantage over Chelsea after having beaten them 2-1 in Milan which put them in a risk of not receiving a goal as this would have resulted to their elimination.
The Cameroonian striker Samuel Eto'o regained confidence from Cameroonian supporters after scoring a goal that put the opponents in total disarray in a very tensed match.
Eto'o participated both defensively and offensively in this match provoking the Chelsea defense line with some targeted attempts.
Highly criticised of often putting up  dismal performances in encounters of this magnitude,Eto'o  scored a very vital goal after receiving swift pass from Wesley Sneijder.
The match finally ended 1-0  making it an aggregate of 3-1 in favour of Inter Milan.