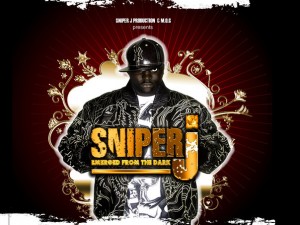 Nee dans les années 80, Le jeune artiste SNIPER-J (Fote Patrice Fote) voit le jour à l'hôpital central de Yaoundé au Cameroun. Née d'une famille bilingue malgré le fait qu'il soit francophone d'origine (Bamiléké) Il suit des étude exclusivement en anglais dans des écoles observant le système d'étude anglo-saxon jusqu'au niveaux universitaire. Dès son plus jeune age il a toujours été fans de hip ho…p étant née le même jour que le célèbre et talentueux rappeur américain Jay-Z,un 4 Décembre cela ne surprit personne quand il commença à marmonné ses premières rimes en 2004 même comme étant timide il restait toujours dans les back,cela continua même quand il intègre l'année suivant (2005) le crew où il fait ces premiers pat dans le monde du hip hop camerounais FINAL DREAM ,groupe composer à l'époque d'amoureux du hip hop de toutes les catégorie c'est à dire rappeurs,danseurs battle et autres,groupe où il œuvra comme le DJ du crew vu qu'il ne marmonnait pas que des rimes avec sa bouche mais aussi avec ses doit car étant pianiste depuis l'age de 5 ans il devint un beat maker très talentueux
C'est aussi dans cette année où il fait son premier single "THE LIFE I CHOOSE" feat SKINNY-J un single qui n'a pas eu la chance d'être connue du grand publique mais qui a déchiré pas mal dans le milieu des lycée et p'tit quartier de la ville telle que EMOMBO son quartier résidentielle. Après l'échec de se single au grand publique SNIPER-J ne se décourage pas,étant déjà fortement initié dans le milieu il commence à participé à plus en plus d'événement de culture hip hop telle que l'excalibur en 2008 événement mensuelle dans les localité du madison night club ou il fait la rencontre de plusieurs autre artiste et DJ telle que Zef ,ValdeZ ,Cegui,clin d'œil,Dayano et autre avec qui il forma des lien d'amitié des rencontre qui s'enchaîne avec sa participation dans des projet divers en featuring mais aussi en tant que beat maker.
En fin 2008 il réalise son premier clip vidéo NEW YDE CITY (NYC) feat JDS et SKINNY-J avec la participation de SOUND VISION ENTERTAINMENT à la production et aussi les début de son premier album intitulé EMERGED FROM THE DARK ( sorti des ténèbre ) qui est prévu pour cette année 2009,produit par SNIPER-J-PRODUCTION en partenariat avec le label MASTER OF THE GAME TEAM album dans lequel on retrouvera des artistes comme PROSBY,TOX KRAVITZ,ZEF, BELKO,P-ENNEMY,WILLY BOY,SHY-FX,DJ-TH,SIR MILTON,LES KIT KAT GIRLS et bien d'autre artistes déjà connu du grand publique. Il espère que cet album connaitra le succès que n'a pas connu son premier single pour qu'll puisse enfin comme le titre de l'album le dit si bien sortir des ténèbres.
Finalment après l'échec de la première sorti de l'album " Samedi le 25 avril 2009 " , l'album re-editer sort Lundi le 10 septembre 2009 avec en bonus deux nouveux morceux donc Do ya thang avec Tommy Hi-tek et le " classic " Sometimes…. Actuelment encore en promotion, l'impact qu'il a sur le publique est plus qu'impresionant " Je suis heureux que les gens s'interessent enfin à ce que je fais mais plus important qu'ils s'interessent plus au hip hop "
http://www.facebook.com/pages/Sniper-J/93933242446?sk=info