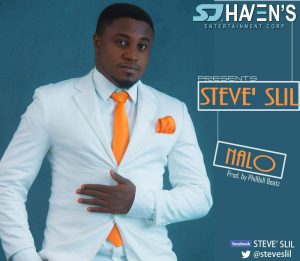 Steve' Slil exhibits his penchant for blending highlife and Afro-pop on this tuneful music titled "Nalo". The song is a combination of melodious Afro rhythms and a sensual vocal / lyrical delivery. He uses pidgin, "Mbo" dialect and French to convey a soothing emotion.
Produced by Phillbill Beatz and additional guitar by Percy.
A real life story about someone who's life is transformed from acute poverty to affluence and his prolonged desire to reconnect with his cherubic lover is accomplished using social media. It becomes a reignited relationship of immense love and fulfilled promises.
According to Steve'Slil ;
"The protagonist loved "Nalo" (Nalova) when he was broke and couldn't afford her needs. He goes through the ordeal of rejection and reproach.
He gets blessed with riches and yearns to meet her again to prove his love and show her a good life.
"Ata Munya (God) na perfect designer, I di mbotoh (wear) na designer for my body, I go take you go Dubai for our honeymoon" .
Through a Google search, he finds her on Facebook. "Na Google I open for see you, Na Facebook I open for see you"
If you ever loved a girl and reconnected on social media and became marital partners, you'll vividly relate with my song" .