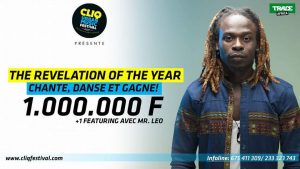 The CLIQ EMPIRE and the CLIQ Urban Music Festival in collaboration with TRACE TV & SEME BEACH HOTEL introduces the Cliq Urban Music "#Revelation_Of_The_Year".
It is an interactive Artiste/Dance competition aimed at showcasing raw and undiscovered talent.
Set to spice up the festivities from November 30th to December 3rd, Registration is officially open starting from this day, August 29th, for everyone wishing to participate. The registration will run for a period of one month. So our question is, Why are you still reading this when you should be rushing to www.cliqfestival.com/Revelationoftheyear to get registered.
Requirements
– Fill registration form
– Pay a Registration fee of 10,000frs for Artists and 15,000frs for Dancers/group at any Express Union Branch.
– Professionally recorded Mp3 song of the Artiste
– Professionally shot Mp4 Dance Video – at most 4mins (For Dancers/group)
– Cover photo
– Payment receipt
III. How it works
Pay a Registration fee at any Express Union Branch
Account Name: Cliq Urban Music
Account Number: 17257104201
Cle RIB: 80
Code Agence: 11040
Branch: Buea 1
Fill the Registration form, either Artist or Dancers on the website – www.cliqfestival.com. Upload a professionally recorded Mp3 song of the artist/ Professionally shot Mp4 dance video of any Cameroonian song (for Dancers). Upload cover photo and scanned EU payment receipt and Submit
A committee is going to review the contest and a list shall be published for voting to begin.
IV. Rewards
There will be 2 winners
– The first prize gets: (Best Artist)
Cash prize of One million FCFA (1. 000. 000 FCFA)
– A collaboration with Mr. Leo.
– Production by Blaise B, Directed by Dr Nkeng Stephens
– Promotion and Media Tour by Cliq Empire
– Training of management team for 1 month
The First Prize gets: (Best Dancer/crew)
Cash Prize of one million FCFA (1.000.000 FCFA)
– An endorsement contract.
– Promotion and Media Tour by Cliq Empire
– Feature in Mr Leo's Next Video
Facebook: @cliqfestival
Twitter/ Instagram: @cliqfestival
Email: thecliqfestival@gmail.com
PR/Media: The Cliq Empire – thecliqempire@gmail.com / 675-411-309
HERE IS YOUR OPPORTUNITY TO BECOME THE NEXT BIG SUPER STAR.