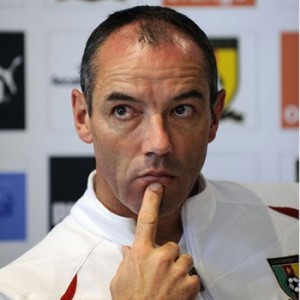 Tension has been rising since the arrival of the Lions on Sunday, June 6, 2010.
The National team just played four test matches against Georgia, Slovakia, Portugal and Serbia. At the end of this European tour, the coach of the Indomitable Lions coach, Paul Le Guen , accorded  a press conference in Yaounde this Monday, June 7, 2010 . It was about the level of the team's preparation. The French coach said he was "extremely satisfied", despite the assessment that the media people have found inglorious.
Five friendly games, two defeats, three draws, eight goals conceded, five scored.
Paul Le Guen does not feel dejected. Far from it. His dream is to see the Indomitable Lions to go beyond the quarter-finals reached in 1990 in Italy.
"It was important to play very difficult matches. That's how we should prepare for the World Cup. Our goal was not to win. I'm less nervous than during the CAN. We have a good workforce, " said the coach of the Indomitable Lions. He says  he sent a spy to evaluate the  Denmark, Netherlands and Japan friendlies.
"We hired someone to oversee our opponents . A report was forwarded to us every two days, "

he said
.
In addition, a  video editing company based in Europe has made available  tapes of games these teams.
The Cameroonians are not to worry less than a week of their arrival in the competition, facing the Japanese . To those who still have some doubts on the striking power and destructive capability of the Indomitable Lions, Le Guen replied:
"We are ready. We will fight in good conditions.
The last phase of preparation starts on Tuesday with an exhibition match at Ahmadou Ahidjo Stadium in Yaounde. But it is in Durban, South Africa, Paul Le Guen will make the final adjustments.
As such, he admits that Mandjeck , aligned on the right side of defense, did not give full satisfaction. It is thus a question of  "finding the right solution at the right wing.
There is no doubt that Sébastien Bassong, Benoit Assou-Ekotto  who played two thirds of the premier league matches, Nicolas Nkoulou who had a very good season with Monaco, Stéphane Mbia; champion France with Marseille, Enoh Eyong of Ajax Amsterdam, Alex Song and Samuel Eto'o are in the analysis of  the coach  in the starting 11. But the coach warned, "there is no blank check for any player."