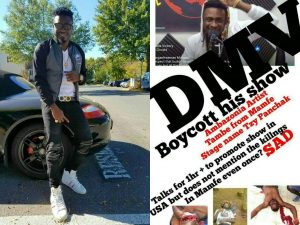 Blu Nation artist Tzy Panchak has been making waves lately after dropping a soul-searching tune "woman crush" coupled with his invitation as special guest to perform at AFRIMMA. 
Tzy Panchak is currently in the United States where he'll be on tour. 
Unexpectedly, a campaign has sprung up on social media calling people to boycott his show and condemning the artist for not showing empathy for the Southern Cameroon struggle which saw about 100 deaths recorded on October 1st. 
Fingers have been pointing at frontline separatist Bara Mark for being responsible for that but he has come out to debunk the accusations saying he hasn't called for any boycott , yet recommends all artists to show concern.
Read below : 
I HAVE NOT CALLED FOR ANY BOYCOTTS OF ANY ARTIST YET. THAT PHOTO IS NOT FROM ME. I HAVE RAISED CONCERNS ON OUR ARTISTS TO CONDEMN THE WANTON KILLINGS OF OUR PEOPLE AND IT IS SOMETHING EVERY ARTISTS SHOULD DO. THEY HAVE A VOICE AND MUST DO IT ESPECIALLY WHEN THAT ARTIST COMES FROM THE ENGLISH PART. WE HAVE SEEN IT IN AFRICA AND WESTERN WORLD. THE CAMEROONS CAN'T BE DIFFERENT. I HAVE ARGUED THAT OUR ARTISTS MAY NOT NECESSARILY BE A SUPPORTER OF INDEPENDENCE, FEDERALISM OR UNITY BUT CAN BE CONCERN ABOUT HUMANITY ESPECIALLY WHEN THAT TOUCHES YOUR OWN PEOPLE. ARTISTS CAN CONDEMN SITUATIONS, OFFER THEIR CONDOLENCES WITHOUT NECESSARILY TOUCHING OR INSULTING GOVERNMENT TO AVOID BEING POLITICAL. SOME OF THOSE WHO DIED MAY BE THEIR FANS. AGAIN, IT IS MY STRONG POSITION THAT ANGLOPHONE ARTISTS MUST MAKE THEIR VOICES HEAD. THERE IS MASSACRE IN SOUTHERN CAMEROONS AND NO SECTOR OF OUR NATIONAL LIFE SHOULD BE QUIET. WE CAN'T STAY QUIET WHEN MORE THAN 100 HAVE BEEN SLAUGHTERED. I WILL IN THE DAYS AHEAD COME IN OFFICIALLY ON THESE CONCERTS. I AM AT THE OBSERVING STAGE. OUR ARTIST SHOULD BE AWARE THAT IN THE DIASPORA, THE ANGLOPHONES ARE IN THEIR MAJORITY AND THEY COMMAND A LOT OF POWER AND FOLLOWING EXCEPT THEY WILL HAVE THEIR CONCERTS BEING FILLED WITH FRANCOPHONES. NGWANE HANSEL MADE A POST CONCERNING THIS SAME ISSUES AND I SHARED MY THOUGHTS ON HIS WALL. CALLING FOR BOYCOTTS AT THIS STAGE IS NOT NECESSARY BUT OUR ARTISTS MUST COME TO REASON TO UNDERSTAND THAT THEIR PEOPLE NEED THEM TO STAND WITH US AND THAT CAN BE DONE WITHOUT COMPROMISING THEIR RELATIONSHIP WITH THE GOVERNMENT THEY ARE SO MUCH AFRAID. THERE ARE ALWAYS NICE WAYS TO DRAFT STATEMENTS AS SUCH. AS FAR AS I AM CONCERN, NO ANGLOPHONE ARTIST HAS AN EXCUSE TO STAY QUIET NOW. NONE.
Mark Bareta
Some have regarded this as a publicity stunt to promote his tour.
Woman Crush by Tzy Panchak