Following the derogatory remarks by Longue Longue concerning  Petit Pays in a private channel Cameroon where he was the guest that Petit Pays cannot sing and derails the youths with his music , it was anticipated  that the "Turbo d'Afrique" was not going to leave it there. Indeed, he broke the silence to reprimand his detractor, and seized the opportunity to settle some scores with those who have always wished him the worst. He used the most scathing adjectives to describe Longue Longue and predicts the death of an artist.  He also delivered the true causes of the death of Filingué Hiroshima and Jeannot Hens who at one time worked under his wing. Even Jean-Pierre Essome has not escaped the torture of "Rabba Rabbi …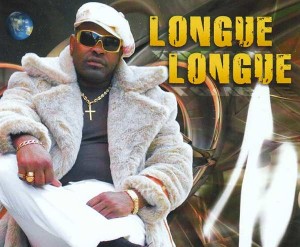 "I am now a man overwhelmed with the  nightmare of what has become the musical world of my country. A world without pedestal, without gratitude and without honor. A world without rules and without limit. A world where malice is a custom, men and their reputations a simple prey. The violence of the language is a new weapon, well integrated by combatants of another kind, who have no decency, no respect for themselves. These individuals, with bad body and mind, pollute the serenity of Cameroonians by a deleterious education, and display a rather dubious morality. One of them (LONGE LONGE) was recently released from the jail of a western prison, where previously he was responding to exploits.LONGE LONGE, like the others, without any measure of respect for the many Cameroonian families following the media every day stubbornly, destroys the values which constitute the foundation of a society. His abominable attitude is understandable, given the slight pedigree claimed by the individual. A relatively poor level of education and a troubled childhood, are quite sufficient. This unfortunate fact of rape and childhood anxiety was renewed by the prison term. LONGUE LONGUE  now suffers from serious mental problems. As a rapacious foul, he seeks to rotting flesh to find a new way of survival. For this, as his fellows, he is ready to forget everything. To forget my deference to the youth of my country for over 25 years. A glorious period when day and night I hosted, fed, cared for, framed, educated, trained and inspired several generations of artists whose success have gone far beyond our borders. These young people, whose poverty of spirit is exceptional fall into ignorance of the storm often reserved for those who have no sense of ethics and morality. Thus they forget the divine anointing that natural leaders possess. Any person who objects to an ephemeral order is doomed to loss. Anyone opposing me in Cameroon, should expect a painful decline. Those who oppose me fall. They all fall.
One of them, Essome as his acolytes, often made a mockery in public, some time ago. The sovereign people became aware , denied him and now it's gone. We do not address the one whom God has chosen.This is a great principle of nature. These young unemployed persons grew up in terror under which they have become accustomed to unhealthy practices . Since childhood, they break and fly like Papillon. Their true nature gets revealed sooner or later. They carry the flaws of a difficult childhood into music culture. Music has been for them a way to escape from poverty.
Very far from them, I was born like Jesus Christ.I ,  from my birth, was knighted with valuable mineral.  In a large calabash filled with precious gold filter, diamond and sacred perch, I was immersed as the kings and princes, for more than five minutes. That's why I shine and I will shine all through my life. The wickedness of these creatures of different kinds is endless. Thus they have stocked up every day for over 25 years, thinking that I was going to die.Everybody dies before me, to the last. In the coming months, there will be a tragic disappearance. The artists themselves are the cause of this drama to come. What will happen will be the result of the many evils of each other. The law of Moses is more than ever essential. There will soon be new death in the world of music and the artists themselves are the cause. When you reach your hands into the dog's dish, it bites you. If you move away from evil, evil will be away from you. Jesus Christ did not refuse the law of Moses, he had worked for his accomplishment. It is God who gave Moses the law: an eye for eye, a tooth for tooth. If one day Petit Pays conspired with death, he would not be alive. If Petit Pays had plotted for the loss of an artist, it would no longer alive. I would like the people remain a witness and that his be a lesson to generations everywhere. Those who have done evil to Petit Pays will pay because Petit Pays is the cause of God, it is God who wanted. Put yourself all behind him so that you too can prosper. Some seniors are well aware, but youth is pressed. As tradition, it will touch the left and right. Thus we lost Kotto-Bass and many others, because they had all Soiled their hands. They had touched  blood. And they paid. They all touched blood. They are those who find a means to sleep with their mom. When they compromise, they thought they could do like Petit Pays. Now they hunt their moms out of the houses they have built for them, because they refuse to give in to sex. Recognition is not music. Children who bowed down to me yesterday, asking for a photograph, and a little help today will tarnish me on TV.They are creatures of darkness. Jeannot Hens died poisoned by his friend. Filingué died poisoned by his manager who accompanied him. The sad fact is that these guys, murderers, also died in turn. I myself have been poisoned several times. I am alive because the Lord wanted to teach a lesson, so that everyone knows. For this to be a lesson to nations. The many misfortunes that will soon hit the music coming from the compromise of different actors. Many soaked Hands. Many have shed blood. They will bail by the law of Moses. They already live in darkness. That's why they go on television.These young people are moving away from hubris same species of music, and artistic glory. Who among them has so far held a single stage? All are skewered in shows. What audience they have ? Thry do not have the public and are not symbols. Nobody believes in them. They now find no place in nature, but in a cage or prison. They must return to their imprisonment for life, because they are there for them. They must learn to respect nature: seniors, men, water, animals etc. I am not responsible for their too premature baldness. It's not my fault if they no longer live .you can fight me at home, but I'm a man of all continents. All have imitated me, they all listened to love music. He who despises seniors is cursed. They come to destroy. They only have to formally ask for forgiveness to avoid the calamities of darkness. No one can deceive the people, it is witness and knows everything.Petit Pays fears God, Petit Pays is the way, is the man who promises, reassuring, who trained young people who gave them the passion for music and more. I had  nothing more to do,  school stopped working. Then I came back from Europe where I left Maria, my wife, and children, to give a helping  hand to this job and show how it can be done easily. The seniors have also wanted me for that. How to understand the ingratitude of the young people who benefit today? Children are more wicked than adults, because they are born with a bad heart .They look at you with a mean eye, ready to poison you, and they come often. But with me, they found a rock. They all go away, leaving me in this business, because people are aware.
All my statements are well founded. Sawa people fought me for the Caiman; where are we now? But rejoice, I think they also have not been able to understand that my soul is pure and that I have the fear of the Lord. I ask all those who have done wrong and are among the soothsayers, trying to find some comfort, to confess and repent. It is necessary that through the media, they bear witness of the evil they have done, so that their souls may rest in peace when the time comes. ".