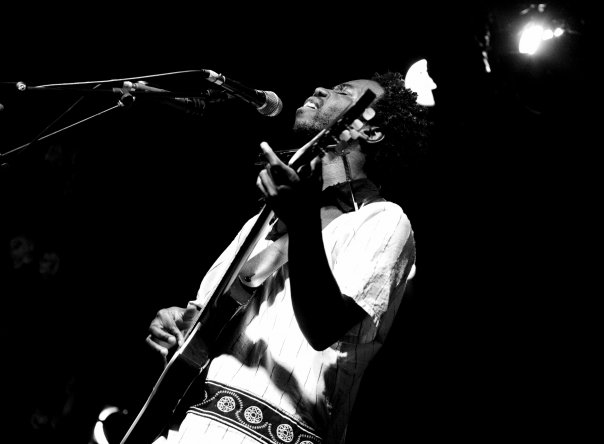 Muntu Valdo , the oldest of four brothers is from the Sawa community in Cameroon.. His Father is from a small village in of  Dibombari 30km West of Douala and his mother is from the Malimba Islands out in the Atlantic ocean. At the age of 8, Muntu played his first notes on an old guitar, which was made out of plasterboard and a fishing wire. It is during this time that Muntu developed his passion for music, a passion which would then keep him out of trouble at this stage in the 80's when kids didn't have much to do in the working quarters of Yaounde apart from wandering the streets 
Muntu Valdo is now a jazz guitarist, harmonica player and singer from Douala,Cameroon. He started penning  his own lyrics at the age of 15. He has since developed a unique style of music called the sawa blues, which has earned him the title of prince/king of sawa blues. Muntu has performed on the on stage with some of the biggest stars such as Ali Farka Toure, Manu Dibango, Richard Bona, Lokua Kanza, Eko Roosevelt, Lionel & Stephane Belmondo, Keziah Jones, Alpha Blondy. and has played on some of the internationally renowned world music festivals such as Womad.
Muntu set off to study Law at the University of Buea but with the political instability that saw him bed ridden for several weeks,he decided to move back to his parents in Douala.He later enrolled in the University of Douala to study Linguistics and History of Africa and Ancient Egypt.This influenced his musical career positively and opened his world to people who indulged in transforming the world spiritually.
While in University,he joined the band led by Eko Roosevelt which marked his first experience as a professional musician.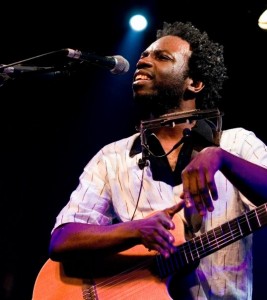 Having spent 3 musical years with Eko Roosevelt,he decide to start his own band called Muntu Band later named Mulema.During these period,he was able to tour nationally in 8 major cities in Cameroon.Captivating the interest of Di Sibi, a new page is turned in his career as he moves to Europe.
On hearing his demos, Manu Dibango was seduced by Muntu's soaring melodies, inventive harmonies and insightful lyrics and was one of the driving forces behind encouraging him to produce his debut album. Boosted by this support, Muntu manages to clinch the financial support of the Sacem for the release, in 2005, of his first album "Gods and Devils – Moiye Na Muititi".
"A unique voice that exudes a rare emotion and sensuality is what characterizes the "Afro-blues & funk Muntu Valdo. Guitarist, vocalist and Hamonic talented Cameroonian singer Muntu Valdo's music is Afro-funk blues and haunting rich melodies – bossa, soul, jazz, Afro-Cuban … – and harmonic inventions."