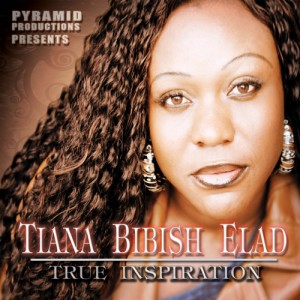 From Pyramid Productions Cameroon comes this new upcoming US based Cameroonian gospel artist with her just released debut musical album 'True Inspiration'. Born in the south west province, Tiana Bibish Elad commonly known as Elad Christina Bibish hails from the city of Kumba and is also University of Buea alumni, a song writer, composer and producer of music and movies. Her style is unique, inviting and there is plenty of variety and breath in her music, most of which can be called gospel pop, merengue and techno.
"True Inspiration" was officially released on February 19th 2012 in the U.S and since then it has been a hit on most radio stations in Los Angeles and California where the album is making waves. Being an accomplished entertainer of radio talk shows, stand-up comedy and a screen actress, she has decided to take an upbeat gospel musical style which she believes incorporates every age-group. She uses her music as a meeting point between those who listen to the music and the message of the music.
Tiana is one of those Cameroonian gospel artists who are trying to reinvent the gospel music and set up a new pace and tone for a stand-out gospel music revival where young people will not be left out. Consenting to her calling which she describes as a God timely calling, she goes ahead to write and compose several songs with her brother Sean D Elad who is also known in the Cameroonian entertainment business for his writing and composing skills especially after his participation in the " Concours de la chanson in early 2011.
Back then Tiana used to be well known and loved by fans that had the privilege to have followed and listened to her programs over Lake site Radio Kumba. Her unique voice and style in running her programs and broadcasting the news won her over to the fans that still miss her. Deeply rooted in traditional choir from NewLayout youths Kumba, Rose of Sharon Singers and others etc, and interwoven with the renaissance and vibrant color, not leaving out the texture of world's gospel music, Tiana has put her music in a personal context to define and demonstrate her melodic finesse and positive standing with God as she tells the world through her music
" I am changed, the Blood of Jesus Washed me Clean"
Her music is available on several online stores including itunes.apple.com, emusic.com and goggle music.com. For her videos, they are still to be made public, but  some videos of her performances of most of her songs can be found online too. Here is 'Just Move' and 'Sing a Song'
Savor them!!!