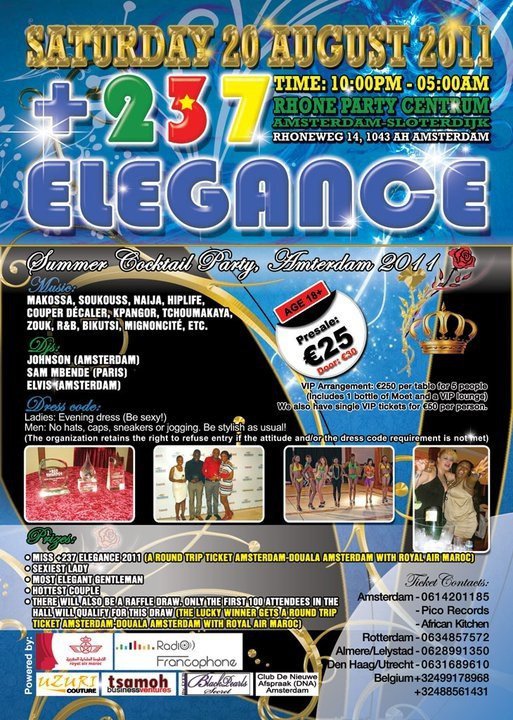 Get ready to witness the  most elegant and fascinating gig happening in Amsterdam , Netherlands on Saturday,  August 20th 2011.
Venue

: Rhône Congress & Party Centre
Rhôneweg 14, 1043 AH Amsterdam, the Netherlands
---
ACCESSIBILITY: Free parking for all guests.
ENTRANCE FEE: €25 (pre-sale) and €30 at the gate if available.
Note: only 200 tickets are available for this event! Get your ticket now because if they run out, you will have to wait till next year's event.
V.I.P ARRANGEMENT: €250 for 5 persons. For this, you get your own exclusive VIP lounge, a bottle of Moët & Chandon, and more. Only 11 lounges available!
Also available are single VIP tickets at €50 each.
FOR TICKETS: Amsterdam (0614201185, PICO Records, African Kitchen), Rotterdam (0634857572), Utrecht/The Hague (0631689610), Almere/Lelystad (0628991350), Belgium (+32499178168, +32488561431).
MUSIC: Makossa, Soukouss, Naija, Hiplife, Couper Decaler, Kpangor, Tchoumakaya, Zouk, R&B, Bikutsi, Mignoncité, etc.
Note that the event begins at 22.00hrs-00.00hrs with a pageant. As from midnight, there will be non-stop dance till 05:00am. Do not forget to put on your best dance shoes.
PAGEANT: Beginning at 10:00pm two designers; Audrey Lucienne (Uzuri Couture) and Diana Tambe (Blackpearls Secret) will showcase their latest designs on half-a-dozen sexy and elegant models. The outcome of this pageant will be the election of "Miss +237 Elegance 2011". This lady gets a return ticket Amsterdam-Douala-Amsterdam? with Royal Air Maroc.
PRIZES: We shall also present our customary prizes for the;
– Sexiest Lady
– Most Elegant Gentleman
– Hottest Couple
Lastly, there shall be a raffle draw in which the lucky ticket gets a return ticket Amsterdam-Douala-Amsterdam? with Royal Air Maroc. Only the first 100 attendees in the hall shall be eligible for this draw, so see you at 10.00pm prompt.
DRESS CODE:
– Ladies; Evening dress (be sexy!!)
– Men; Dress gentle and stylish!! Dress to impress! No hats, hoods, jogging, sneakers.
Note: The organisation holds the right to deny entrance if the dress code and/or party attitude is not respected. This is no joke as it will be strictly enforced at the door!