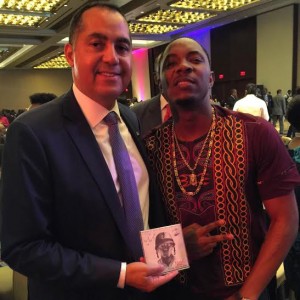 Adopting the message of hard work and persistence that he consistently preaches, STANLEY ENOW on invitation attended the 45th Annual Legislative Conference by the Congressional Black Caucus Foundation (CBCF) in Washington DC last week where he met with officials at the Overseas Private Investment Corporation (OPIC) currently working on a 400 megawatt hydro-power plant to be built in northern-central Cameroon.
  Following the footsteps of Akon, STANLEY ENOW made it clear that he would like to use all of his influence to back the hydro plant and help bring electricity to his beloved Cameroon and Africa in general.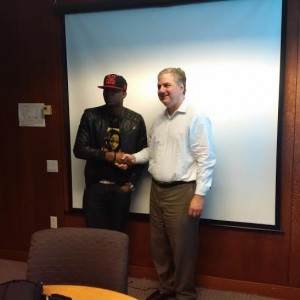 STANLEY ENOW was also able to meet and speak with US Congressman Andre Carson who headed up the HipHop and Politics panel, CBCF Chair R. Donahue Peebles; CBCF co-chairs Rep. Terri Sewell and Hakeem Jeffries; House Minority Whip Steny Hoyer and even Democratic presidential candidate, former Maryland governor Martin O'Malley; an opportunity which he deemed to be "life changing."
The eventful conference culminated in the Phoenix Awards Dinner hosted in person by the President Barack Obama and his wife Michelle Obama. "It was such a wonderful opportunity and experience for me to be in the presence of such an important man in history – the President of the United States and his wife. It shows that anything in this life is possible." STANLEY ENOW stated.
Since its establishment in 1971, members of the Congressional Black Caucus (CBC) have joined together to empower America's neglected citizens and address their legislative concerns. For more than 40 years, the CBC has consistently been in Congress the voice for people of colour and vulnerable communities and has been committed to utilising the full Constitutional power and statutory authority of the United States government to ensure that all U.S. citizens have an opportunity to achieve the American Dream
.