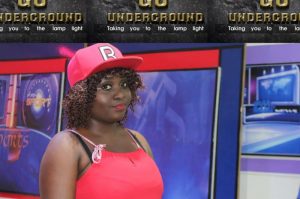 An Award Ceremony held at the Chillen Media Studios, last Saturday October 29 2016, marked the climax of the 'Go Underground' music talent search competition organized by Buea-based record label, Chillen Muzic Entertainment.
After several weeks of competition, just five contestants were left standing as  finalists, battling for the grande prize; A 3-year 10.000.000FCFA Record Deal with Chillen Muzic Entertainment, comprising Nenkai Treacy, Gerald Tekeh, Andrew Nangoh, Fritz Fusi Mutale and Zingken Asongafac.
The ceremony was presided over by the boss of Chillen Muzic Entertainment, Nkwain Etienne Chiambah and guest judge/artist, Montess.
Phase one of the event saw all five finalist each take to the stage for the very last time. The second phase was the declaration of the results.
A week before this Award Ceremony, these five remaining contestants had presented their final performances for which the public was given a week to vote for their favourite contestants, votes which eventually constituted 10marks out of a 30marks grading. The other 20marks were from the average of the marks awarded by the judges during the final performance.
According to figures from the above statistic, the results were as follows:
5th Position- Fritz Fusi Mutale (Went home with a cash prize from Chillen Muzic Ent. + prize from sponsor, Bush Market)
4th Position- Zingken Asongafac (Went home with prizes from sponsor, Bush Market)
3rd Position- Andrew Nangoh (Went home with prizes from sponsor, Bush Market)
2nd Position- Gerald Tekeh (Went home with prizes from sponsor, Bush Market)
WINNER     –  Nenkai Treacy (Got  a 3-year Record Deal with Chillen Muzic Ent worth 10.000.000FCFA + prize from sponsor, Bush Market)
At the end of the ceremony, Chillen Muzic Ent., Nkwain E. Chiambah expressed satisfaction for the success of the entire competition and emphasized that the end of the competition was the start of the actual journey with the winner, saying he was looking forward to getting down to business.
He further urged the other four finalists to keep working towards building a career for themselves.
Excerpts Courtesy of starbillang.com