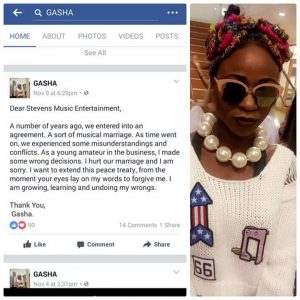 Gasha posted an apology on Facebook addressed to her former label Stevens.
She expresses deep regrets for the mistakes that let to a severance of ties with the label and pleads for forgiveness. She blames the fact that she had an amateurish knowledge about show business. 
The label signed Gasha in 2013 and made remarkable strides in the music industry with the sultry songstress. She had released groundbreaking hits "Kaki mbere" and "This Life",  garnered a massive following across Cameroon under the label , winning an AFRIMMA . Things turned stale and she exited. Steven's management put out an official statement indicating they had an amicable seperation. 
She was immediately substituted by   Daphne after the separation. It's quite evident that this was a witty move . Daphne seems to be doing so well, she's been basking in fame and even clinched an AFRIMMA award this year under their management.   
It's so appropriate for Gasha to apologize. We  however await a statement from Stevens.