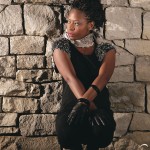 She ha
s already dropped her signature song, with "Killing Me." And now Myra Maimoh is back with a remix, recruiting fellow songstress Naomi Achu for the ride. In "Killing Me (Remix)," Hitsmiths's serene and soulful soundscape of claps and piano notes are accentuated by E. Clyde Entertainments" video interpretation. Myra's soothing lyrics of strength from perseverance are given fiery edge by Naomi verses of blistering defiance.
From an early age, Myra Maimoh has always been drawn to music. Starting off with her mother's diverse collection of records, she was already singing and dancing by the age of 3. By the time Myra was 18 she was already a veteran in songwriting, performing and musical band management. Her solid background in the performing arts culminated in Answer'd Me; an 11-track LP masterminded with producer/writer/engineer Halle that yielded the "Killing Me" track.
The background of Naomi Achu is no less impressive—with songwriting and performing that also started at an early age. After garnering experience from leading choirs and providing back-up singing, Naomi released her first full length album Positive Energy, which features the popular hit "Alhadji," in 2011.
"Killing Me (Remix)" is a true collaboration of two of Cameroon's finest. It sends a powerful message of strength and vindication through perseverance and hard work to the top.These two Afro-divas are telling the world that nothing or no one will hold them back or down.It is as much a message of their lives, as it is a message for everyone out there trying to make it in life.
The song is a "must-include" on your Christmas holiday playlist. You can download it for FREE from :
Listen and dance to it from youtube :