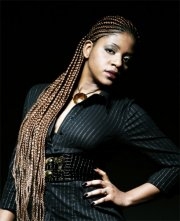 Cameroonian Afro talented star, Menoosha is nominated at the Black Entertainment, Film, Fashion, Television and Arts, BEFFTA  awards 2011 for "Best International Artist".
Following a nomination for "Best African Act" at the MP3 Music Awards, MMA last year with the Nigerian hip pop duo stars P Square and Sierra Leone's male singer Famous as nominees too, the untameable lioness as she calls herself, puts more efforts and successfully catches all the attention to herself  again at this year's BEFFTA Awards.
Born and bred in a family of Cameroonian descent in Abidjan, capital city of Ivory Coast, the diva was  introduced at a very early age into the music  industry by her afro-pop singer-aunt Bebe Manga who passed away to the Almighty Lord 3 months ago, May her soul rest in perfect peace.
Menoosha is best known for her best song of the year 2007 –"Givin it up", also "African Boy", a reprise of Estelle and Kanye West's "American Boy", featuring Ghanaian Emcee Manifest.
This year, after the release of  "Three Piece Suite", she and  producer and friend, Dario Allegra came up with the guitarist  Afro Soul and hip pop electric filled album "Satellite Brown Chick" whose single "Chamukuana", an  electro Afro club track, sets her into competition for the BEFFTA 2011.
Hey NexDimers ! its time to count out all our votes out for none other but our own sister  Menoosha who sends her  heartfelt thanks to all who took their time to nominate her. She and Dario Allegra will forever remain  grateful artists to those who support and believe in their work." It feels great to be acknowledged", says the diva.
To cast your votes for Menoosha: www.beffta.com/voting