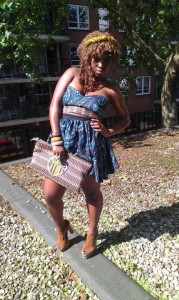 Cameroon's got talent. That is the statement one can make from a cursory look at the number of Cameroonians marking their mark in various fields worldwide. One of those Cameroonians in the vanguard of  fashion in Holland is Mary Tataw, C.E.O of the M.A.F Couture. In the following interview, nexdimempire.com hooked up with her and she kindly opened up about herself and her passion.
Nexdimempire.com : Who is Mary Tataw?
Mary Tataw: I'm a fashion student in Holland, born in Cameroon raised in Douala. Been here for 6 years doing what I love doing, fashion!  My brand name is M.A.F.COUTURE (Mixed African Fashion) that brings you exclusive styles and fashionable African pieces.
Nexdimepire.com : When did your love for fashion start and what and/or who are your influences?
Mary Tataw: My love for fashion started when I was 7 years old. My grandma bought me a jersey long sleeve top and I turned in into a mini skirt and I made some holes with some ropes attached to it, at that moment I knew I wanted to make something suitable for the right age and style, fab and sexy as well as upgraded.
Nexdimempire.com : How is the fashion industry out there in Holland especially for an outsider?
Mary Tataw: It is a challenge with many designers and different styles especially different cultures.It's quit demanding because more people want to wear whats out there say H&M and are scared to try something different. Like the Dutch, they prefer wearing jeans and sneakers a whole year than to wear something they've never seen, so it's our job to pull them closer to our culture and let them experience the taste of African colours and fab outfits.
Nexdimempire.com:  What makes your brand unique from all the others?
Mary Tataw: My brand is quite unique because everything is hand made and combined with African fabric. My style is young , crazy , sexy and exclusive. You have to have guts  to put my designs on. It's more challenging than other brands out there!
Nexdimempire: From your experience so far, will you advise others to join this industry and why?
Mary Tataw :  My advice is that if you wanna join his industry you really have to like what you doing and be patient as well as dedicated because it's not an easy task.
Nexdimempire: What do you intend to achieve as a fashion designer ?
Mary Tataw: I  want to become more than Valentino Garavani one day. I wanna give fashion lovers more exclusive colourful designs for them to love and that style will will never die!
Nexdimempire: One last word for the public out there?
Mary Tataw: If you want something  go for it, because other people are doing what u should have been doing 600% better than them!!!