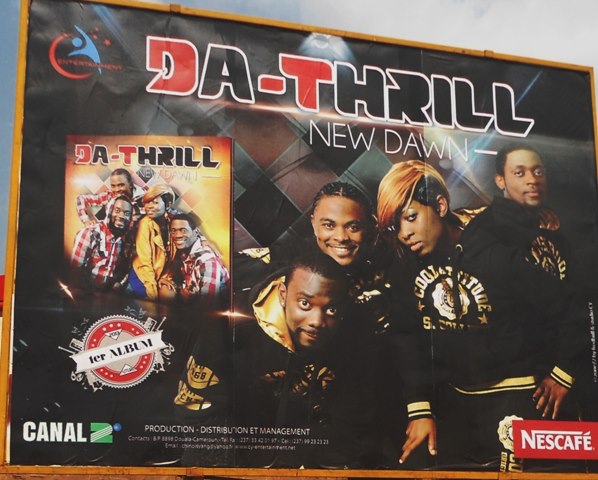 DA-THRILL is a Cameroonian band made up of three gents – SALATIEL LIVENJA (Salas), IKOSO ELVIS (Rudy), AKWANDOU BLAISE (Blaise B.), – and a lady – NFOR MIRABEL (Myra). The group was formed in March 2010 when Salatiel and Rudy were in 3rd year of university and Blaise B.  in final year high of school. The three guys easily clicked as they were already singing together in some accapella groups and recording songs at M1 and Favoo studios Limbe. They decided to come together as a group when the Nescafe African Revelation 2010 was launched. As time went on, they felt the need for a feminine touch in the band and so Carine Nkamdem came in. Together, they won the Nescafe competition at the national level and were vice champions at the Pan African Finals in Dakar. Myra the last member of the group came in early 2012 when Carine sailed for other shores. The band has two singers (Blaise and Myra), a singer and rapper (Salatiel), and a dancehall artist (Rudy). They get their musical influences from acts like the DAARA J FAMILY, BLACK EYED PEAS, MORGAN HERITAGE, SEXION D'ASSAUT and many African world music as well as modern day Afro urban music. Soundwise, they are into Afro beats, Pop, Hip Hop, Reggae, and Cameroonian native styles. They perform in English, French, Douala, Ewondo, and some other Cameroonian native languages.
As national winners of the NESCAFE AFRICAN REVELATION 2010, they just recorded their first album "NEW DAWN"  under the management of CY ENTERTAINMENT and sponsored by NESCAFE . The album is due for release in February 2013.
 THE 1st ALBUM "NEW DAWN"
The album "NEW DAWN" was recorded between 2011 and November 2012. It is a thirteen – track piece with a wide variety of genres, ranging from Hip Hop Makossa, Techno Decaler to Afro Zouk to Soka to Reggae, Pop and R'n'B. The group is currently signed with CY ENTERTAINMENT which produced and managed the group for NESCAFE. The album was produced, mastered and mixed at M1 studios Buea, where Salatiel works as a major sound engineer and music producer. It was mastered in Paris by the legendary JEFF ATTIOGBE. The album was produced 90 percent by Salatiel, a song by Blaise, and a song by Brunz. In the intro track "I see the light", this masterpiece carries a  message of hope for the future to the youth of the world especially of Africa. Messages of love are not left
out, with songs like "Je te yah moh", "Say
I do", "One last dance" and "Admirable". Virtues like patience  and themes like politics also feature in the album with songs like "Molo molo" and "Freedom" respectively. The theme song "New dawn" paints the picture of a new Africa while  there are also dance and celebration songs like "Bring it to the dance floor". The album ends with a song dedicated to the sponsoring brand NESCAFE. With this debut album, DA-THRILL hopes to achieve an international reputation and participate in all the big shows around Cameroon, Africa and the world to bring their music closer to their fans.