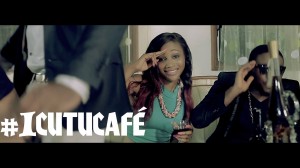 On this week's edition of Kandid With Kreef (KWK), we have the "Ebangha" crooner & the amazing Steveslil. Staytuned # ReadOn
KREEF: Bonjour Steveslil. How are you today?
STEVE'SLIL: I'm good by the Grace of God. And you?
KREEF: I am very good actually. Thanks for asking. So tell me, who's Steveslil? Is that your real name? "Steveslil".
STEVE'SLIL: I'm a humble servant of the music-loving people. Soul-seductive R&B, Afro-pop and highlife music is what I spill out to the world. lol. My real names are Stephen Mbu Njang . STEVESLIL is a name I acquired in secondary school, meaning giving a little part of me. "Steve's little". Funny right?
KREEF: Very funny how the "lil" came about but now i get it lol. So how did Steveslil start music?Were u in a choir growing up? Because you actually can sing!
STEVE'SLIL: I'm from a family that has a strong musical penchant. My mom and dad (RIP) were gospel music composers who influenced me tremendously. My aunt was the composer of the famous "luncheon date" signal tune that is used till date on CRTV. I had a humble beginning at home and later joined the church choir at 9 as an alto singer. I was versatile in anything arts inclined. Drawing, painting, acting etc. Enrolling at the University of Buea changed my perception about music after I joined a hip-hop band called Core South. We were the first to represent the South West at the Nescafe African Revelation in 2005. Then I went solo when we disbanded. Thanks for appreciating me as a good singer.
KREEF: Oh wow!!! Never knew you had such a strong music background. That's good. So who are your music inspirations?
STEVE'SLIL: My inspiration is natural. I flow with the intonations of nature and the things I see happening daily. Most of my songs reflect my life. I sing and relive moments. However as a teenager; I listened to Kotto Bass, old Ghanaian Highlife, Maxwell , Jill Scott, Floetry, Sisqo, Matt Houston. They influenced me positively. Kotto Bass however remains my fav; his vocal timbre, music and charisma.
KREEF: Most of your songs reflect your life? Meaning your hit song "Ebangha" is actually real life? Because rumor has it that one "bayangi girl with the cutest smile" called Ebangha actually broke your heart. True?
STEVE'SLIL: LOL. I heard that a lot when the song was released. Most fans following me on social media even thought I had an affair with Ebangha Njang which incited her to bear the name "Njang". I had that a lot on Facebook especially. I kept on clarifying them. It was so hilarious. Hey, Ebangha was the first girl I had a crush on in secondary school. She blew my mind. It's not a story of heartbreak but rather a tale of teenage love. Also, I'm appreciating the unmatchable value and beauty of the African woman.
KREEF: That's so cool! Talking about your "Ebangha" song, the original song actually had Z-lex, the Camer rapper. But the video came out without him nor his verse. Rumor has it that y'all had these irreconcilable differences. How true is that?
STEVE'SLIL: Chai!! You're the first to take the bold step. No one has asked me this question in all interviews I've granted. Z-lex is a talented artist i admired and respected. We started the hustle in Malingo, Buea with many demo recordings. Our relationship dwindled when we were set to shoot the video of my hit song "Ebangha". We first had differences concerning the concept. Later he told me he wouldn't be in the video if it was shot in Buea. My team and I resolved to shoot his verse in Douala which he preferred as location. Arriving on the scheduled date in Douala, it was a story that almost brought judicial intervention. lol. I forgive the dude for promising to stab me if "Ebangha" video is released without him.He didn't give me the data file of the song. I had undue delay progressing with the project. God in me told me to release the project without him and wait for him to kill me as promised. lol. I have the audio recordings of his threats that day in my lawyer's keeping. I didn't want to ruin him. God reigns.
KREEF: Oh wow!!! Trust me to always hear rumors and speak on it. I never let things go honey lol. But I'm happy it never escalated to something else. We need less beefs and more hits. So i hear you're behind the great blog Nexdim Empire. True?
STEVE'SLIL: Yea. Haha. I have interred the past and now my focus is making good sounding music and pleasing my fans and yes I'm co-owner of the most trafficked urban music blog in English-speaking Cameroon. www.nexdimempire.com
KREEF: Oh yes it's a very good blog! So any upcoming projects for Steveslil? I know after "Ebangha" there was "I Cut U Cafe". So what's next?
STEVE'SLIL: Yea. After "I cut u cafe" SJ Havens is currently planning the release of my new song "Tabala" and a new video "Diana". KREEF: SJ Havens? What or who's that? Your new label?
STEVESLIL: Yea. I got officially signed to the label SJ Havens before releasing "I cut you cafe" last year. It's owned by a Cameroonian business mogul based in Douala. It's just a new label opened to new acts who are talented.
KREEF: Oh! Never heard of them but aww that's nice, congrats! Do you have any Cameroonian artists you'll love to work with in the future?
STEVE'SLIL: Yea sure. Ewube, Numerica, Mr Elad, Locko, Stanley Enow, Govina Essomba. I regret Kotto Bass is no more…
KREEF: I know, don't we all? RIP to him.
Well, thank you so much Steveslil. This was one very good interview. Do you have anything you'll like your fans to know?
STEVESLIL: I'm enormously thankful to my fans for the support and love . My next single "Tabala" drops soon and I believe they'll love it. "Diana" video is also in progress. My fans should keep a positive mental attitude and be prayerful.
KREEF: Ok thank you Steveslil and stay well.
STEVE'SLIL: I'm much thankful to Kreef Ent. Keep the flame burning.
KREEF: You're very welcome and thank you!
To watch Steveslil's hits "I Cut U Cafe" and "Ebangha" click on the links below…
-Watch "STEVE'SLIL – I CUT YOU CAFE (Official
Video Directed by Didiblaise)" on YouTube
-Watch "Steveslil – Ebangha (Official Music
Video)" on YouTube
# KreefEnt . # TrendCamer