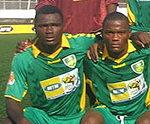 Abouna Ndzana and Mabouka Massoussi who are players of Astre of Douala keep their fingers crossed and sound very pessimistic to be part of the squad to represent Cameroon at the 2010 world cup in South Africa in June.
Both players first burst to the national and International scene when they were handed a surprise call-up by Cameroon's head coach, Paul Le Guen for the goalless Friendly against Italy. But only Abouna could make his debut with the Lions as he was handed the last fifteen minutes of the game by the head coach to prove his critics wrong. Ever since he made his remarkable debut with less impact, he has been tipped as the home-based player to battle for a ticket for the South African challenge.
However, some names have emerged in recent days as speculations are high that Cotonsport's Aboubakar Vincent as well as Canon's Patrick Mevoungou equally stand a chance.