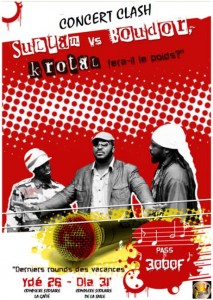 The Cameroonian Hip Hop scene shall be vibrating to the groove as Boudor and Sultan Oshimihn, considered as two Cameroonian Hip hop top notch acts shall be battling it out on stage on August 26th 2011 at complex Scolaire de gaiete in Yaounde and on the 31st of August at College de la salle in Douala , an event organised by Intrust Urban Flow .The  'Jamais' crooner ,Krotal renown for making big hits on the international scene shall be the referee during this punchlines contest.
Boudor , who just returned from Senegal is a rich package you'll definitely admire . His music is an original and unique melange of Cameroonian local languages and rap  with powerful punchlines targeting the youths. His philosophy and life is ideal , respected by Hip Hop pundits across Cameroon.Boudor   is a former member of Negrissm.
Ragga, raggae, dancehall artist, Sultan came to the limelight when he dropped his debut LP, "The birth of fire" .His lyrics are deep and aimed at redressing the political situation in Cameroon. He released his second album in December 2010 dubbed "Black queen".
Music producer, rapper and singer, Krotal is a name which needs no introduction. He dropped "Vert , rouge , jaune' in 2003 and "B.O de nos life" in 2007. He is best known for his hit song 'Jamais' and considered as a father of Hip Hop music in Cameroon having 2 Canal D'or Awards for best Hip Hip artist to his credit.

Grab your ticket at 3 nkolo  only.
Contacts : 9994 92 93 / 7432 80 98