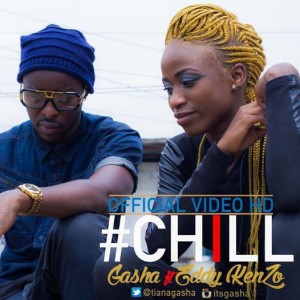 Last week, Gasha got exhilarated and bitterly slammed allegations on her Facebook page against US-based Cameroonian singers P Brodaz for going on Boom Tv and criticizing her new collabo with Ugandan superstar Eddy Kenzo "Chill".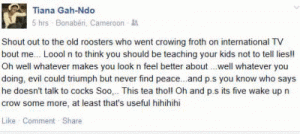 Altho' the  torpedo of her attack was unknown from her post which doesn't carry any name, Kreef Entertainment owned by Ebangha Njang later cleared the putrid air by divulging the underlying truth on their page. The painful sting was that Eddy Kenzo reportedly doesn't know who P Brodaz are and feels embarrassed.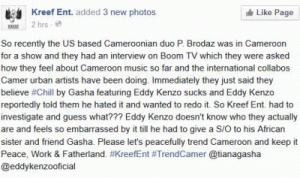 P Brodaz reacted astutely and with maturity to the posts saying she shouldnt be quick to react when she's not sure and declared  that they didn't beef her.  The post came alongside a short video of Terence Dexter (one the PBrodaz) in the studio jiving to their new song with DJ Arafat.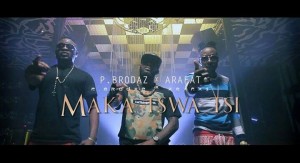 Following the comments, it was apparent that it wasn't a beef as such. Some who had watched the video testified.
Social media was rife with avalanches of insults on PBrodaz . The duo reacted peacefully until this video of the "Fancode" video on Boom TV popped online  to clarify the controversy. PBrodaz have said they owe Gasha and her team no apology.
Please judge !
https://m.youtube.com/watch?v=bhvvvVlrvgs&feature=youtu.be