Blu Nation frontline man Tzy Panchak just performed at AFRIMMA 2017 in Dallas , USA as guest. 
Few hours  after the rendition of his hit tunes "Stay with me" and "Mad 4 yur love" at Afrimma which was on playback, "Eposi" , "Clando" hitmaker Blaise B  went on Facebook to throw a shade at artists who do not master live performances , recommending them to work on their voices and stop disgracing Cameroon internationally. He later made allusion of Davido who does well in live performances despite his coarse voice. 
Considering the fact that Tzy Panchak just performed internationally , fans immediately speculated that this jab by Akwandor was targeted at Tzy.
This opened the floodgates of injurious comments by fans towards Blaise B for making such a remark instead of showing love for his fellow 237 artist . 
This is the post by Blaise B below: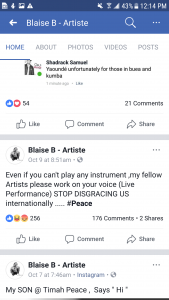 Tzy Panchak felt exasperated by this remark and wasted no time to jump on the comment section to attack Blaise B. This is what he says :
"Stop disgracing yourself locally Mr Voice lol , Support your own regardless . We come from a country where we struggle so much to achieve. So a lil love from you won't kill. I love your Front and Back song. Get a positive mindset . Good luck on your AFRIMA nomination . All love bro "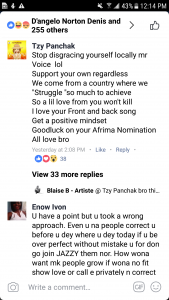 Blaise B has replied apologising ,  saying his post wasn't aimed at Tzy Panchak and he didn't even know of his performance at AFRIMMA that night . 
He further went live on Facebook to debunk the allegations preaching love for Tzy Panchak's music. 
It equally seems Blaise B is feeling hurt by Tzy's statement "Stop disgracing yourself locally". In the live video on his Facebook page , he promised to henceforth flaunt every achievement of his on social media both locally and internationally. 
However, it could have been a coincidence that Blaise B posted such a remark immediately after Tzy Panchak' s first international performance. We can't judge.