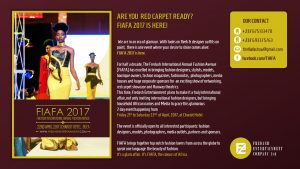 Fredash Entertainment Company Ltd

is gearing up for FIAFA 2017.
The  prestigious Red Carpet event of glitz and glamour shall unite participants across Africa in the sphere of fashion designing, modeling, photography and media .The event is slated to take place on April 21st and 22nd at the Chariot Hotel Banquet Hall , Buea. 
Entry is now open for those aspiring to take part. 
Email: thefiafashow@gmail.com