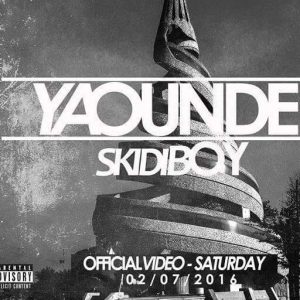 After rocking crowds on multiple events and gaining many followers and fans the Cameroon Entertainment Sphere,
Skidi Boy, a.k.a Menad Ndong, 23 has dropped the video to his Debut single "Yaounde", produced by the prolific Dijay Karl.
Spitting clever rhymes on a hard hip hop beat, Skidi Boy kept it strictly Street and Mboko, like Kumba where he is from,
where he explains how, in his own words, "all ting na for Yaounde", referring to the prevailing culture of "Connections"
with big people and how it is in "Yaounde" that all problems are solved.
Skidi Boy uses his unique vocal texture and rap style to bring a clever mix of intelligent lyrics,
humor and street talk but still manages to make people bump their heads and get involved whilst painting a real picture of the daily Cameroonian reality.
With the spanking new and very creative Video Directed by a new comer in the Cameroonian Entertainment Industry, Germany Based "Director Clean",
Skidi Boy is out to carve his name in the Hip-Hop-O-Sphere in a solid way and add more fire to what already promises to be a
an explosive career from an explosive rapper, enough to rival the likes of household names like Pascal, Jovi, Stanley Enow etc…
Already being scouted by top labels locally and internationally, Skidi Boy is just at the early stages, currently working on a Killer EP
and Album so whilst waiting for that to drop, catch the Video Release on Youtube and Soon on all local and international Media as from the 2nd July 2016.
For contacts and booking:
Tel:+237678008667
youtube:
facebook:skidi booy
Twitter:@skidiboy1
Instagram:
email skidiboy14@gmail.com
Enjoy !