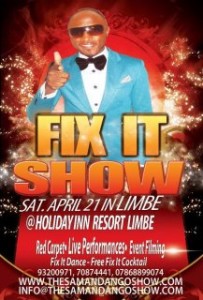 Party people, listen up. Prepare yourselves and your most smashing attires for this unique event. Come April 21 this year the seaside town of Limbe will play host to Cameroon's first ever red carpet event. The FIX IT Show is going to be held at the Holiday Inn Resort,Limbe. It is going to be the finest gathering of classy and stylish people so don't stay home. The event is going to be spiced with grand live performances from the hottest entertainers you can imagine, red carpet interview of celebrities, international media, fix it dance performance, free fix it cocktail all through the occasion and lots of wonderful prices to be won. Hope I said it was going to be filmed live.  It is an exclusive invite only event so all those who have only heard of paparazzis and celebrities should endeavour to be there so they can get the star  treatment they've always dreamed.
For guest list please register here: http://www.thesamandangoshow.com/index.php/fix-it-events-2012
For artists wanting to perform please register here:  http://www.thesamandangoshow.com/index.php/be-at-the-show
For invitations and other info on this event, kindly get in touch with:                                     Renata via 93200971                or             Paul 0447868899074.
Be there, be part of entertainment history.