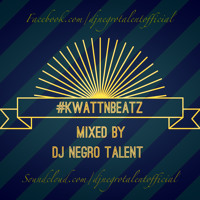 In The Mixtape by DJ NegRo Talent you can listen to tunes extracted from  different Cameroonian compilations like MboaTape Vol 1 & 2, Vibrations Urbaines Vol. 1 & 2 and others. It features artists like X Maleya, Sine, Petit Pays, Krotal, Pit Baccardi, Magasco, Denzyl, Francky P, One Love, Michael Kiessou, Habib Du Bled, Prosby, Philjon, Maahlox and many others.
Biographie (French):
Dans les Etats du Rhin & Main et dans toute l'Allemagne. DJ NegRo Talent est connu comme celui-là qui amène le plus de personnes à transpirer et à s'amuser en écoutant sa particularité de retransmettre la musique. Grâce à ses nombreuses années d'experiences, il impressionne par son originalité et ses capacités à manier différents rythmes musicaux. Les spectacles avec de célèbres artistes internationaux de l'Afrique et de l'Europe et des Ameriques fûrent. Et ne sont rares.
Co-fondateur de la Radio "Afrogrooves" et du Label d'organisation de Spectacles "Afro X'plosion" en Allemagne.
<< Ce que je fais avec les platines ne peut être saisi avec des mots. Connectes toi sur mes réseaux sociaux pour en savoir plus. Une fois Champion de categories Afro Dj en Allemagne… Que veux tu savoir de plus >>