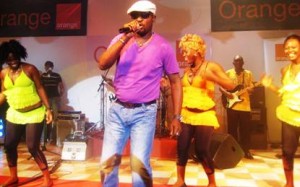 Being a victim of a fatal car crash, the "Njombos" crooner , Eriko has been absent from the Cameroon music scene for a while. He arrived in Douala from  Paris on the 10th of August.
Eriko is actually back on his feet ! He demonstrated his come-back by putting up two electrifying shows in Douala- Bercy and the Yaounde Sports Complex on the 12th  and 14th of August 2010 respectively , supported by artists like Krotal, Longuè Longuè, Nicole Mara, Racine Sa gâte, le Fada Kaotal, and Lady B.
He performed hits from his first album like 'Yondo' and 'Njombo's , his new single " Je sors de loin"  and other songs from his upcoming album.