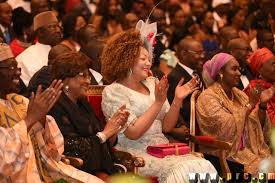 The 10th edition of the Canal D'or awards took place on Saturday 28th at Yaounde congress hall hosted by Tchop Tchop , Kelly White and veteran TV host Pascal Pierre. The award ceremony was characterised with pomp and Splendour in the presence of the first lady Chantal Biya and under the patronage of the minister of communication Tshiroma Bakary.
A flamboyant red carpet moment added the jazzy nature of the event. Stanley Enow was the headliner of the prestigious event should I say Cameroon's Grammy.  The MTV award-winning rapper bagged home 2 awards. Quite historic. The most dramatic moment was when Pascal Pierre openly made a marriage proposal to Jambo TV host Kelly White. She later declared in a post-event interview that it wasn't a "just for fun" proposal but real .
Special awards went to Soukouss Makoul,  Aladji Toure, Roland Kamseu and Eko Roosevelt for their outstanding contribution in the music culture.
It was quite a gloomy day for fellow English speaking nominees who were abortive . Their reactions coupled with fan reactions on social media were quite exasperating . However, the results remain unchanged.
Below is the full list of winners of this year's Canal D'or.
1-Best Urban Artist/Group: Stanley Enow
2-Best Newcomer: Stanley Enow
3-Popular Song: Mani Bella "Pala Pala"
4-Best Male Artist: X-Maleya
5-Best Female Artist: Coco Argentee
6-Best TV Series: Cercle Vicieux
7-Best African Artist: Flavour
8-Best Central African Artist: Roga Roga
9-Best Video: Michael Kiessou "Tourner Les Reins" by NS Pictures
10-Best Comedian: Moustik Le Charismatik
11-Best Folkloric Music Artist/Group: Mabelle Zang
12-Best Actor in a Comedy: Martin Poulibe
13-Best Actress in A Comedy: Kwedi (Cercle Vicieux)
14-Best Newcomer Central Africa:Tresor Mvoula
15-Best World Music Artist:Group: Herve Nguebo
16-Best Gospel Artist/Group: Prince De Jesus