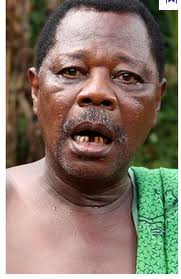 Multitalented Nigerian actor , film director and comedian  , Sam Loco Efe passed on yesterday August 7th at Rapour Hotel, Amakaohai along Orlu road in Owerri, Imo state shortly after returning from location at the age of 66 . Reports say he was in Owerri, to direct a film titled "Unknown Prophet".

According to his colleagues, he didn't come for breakfast yesterday morning. The hotel management was alerted about this . They forced  open the door of his room only to discover his lifeless body on the bed. Some of his colleagues declared that he had earlier complained of a heart problem.
This shocking news comes just about 4 months after the death of Ashley Nwosu.
Sam Loco is one of Cameroonian's favourite actors best admired for his powerful diction, comic attitude and charisma.
May his soul rest in peace.