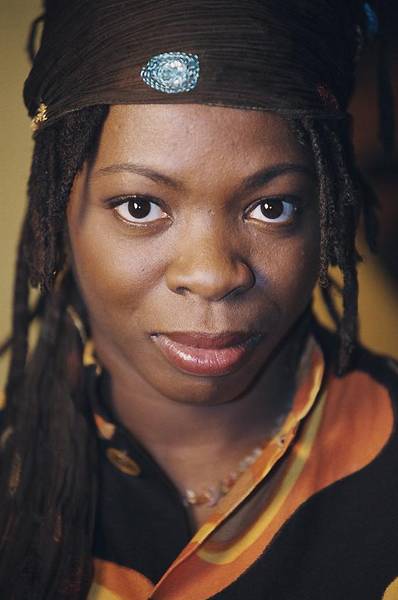 Erika Dobong'na, who uses the stage name, Princesse Erika was born on April 5, 1964, in Paris, of Cameroonian parents. She is particularly known for her 1988 hit ragga songs "Trop de bla-bla" ou "Faut qu'j'travaille".
In 1982, Erika formed with her sisters a band named Blackheart Daughters, then joined the band Princess and the Royal Sound, with whom she made several tours, opening for Jamaican singer Dennis Brown. In 1988, she recorded "Trop de bla-bla" in London and achieved a minor success in France (#39 on the Top 50, but later, the song became famous for being used for a TV advert forMMA.
Then, she released the single "Tendresse" and her first album in 1992. In 1994, she worked with record producer Laramy Smith (a 53rd Grammy nominee) She recorded lead vocal on "The Somebody Help Me Project" at Ferber studio's in Paris, a cd to aid the homeless worldwide. She also opened the concerts for Les Negresse vertes . In 1995, she released her second studio album, D'origine, and the lead single, "Faut qu'j'travaille", hit #15 in France. Two years later, she recorded a duet with Marc Lavoine , "Les Hommes sont des Femmes comme les autres". She participated in Les Enfoirés and wrote several songs for various artists such as "Embrasse-moi" for the Nubians. In 2004, she also particiapted in the compilation Agir Réagir intended to raise funds to help the Morocans who lived an earthquake on February 24, 2002. In 2005, she was a contestant on the French TV reality La Ferme Célébrités to bring money for the African association Routes du Sud. She then organized the four editions of the concerts Les Voix de l'espoir, performed with many other artists in a charity goal. She covered the songs "La Vie en rose" and "J'ai encore rêvé d'elle" with Pierpoljak on the cover album Il est 5 heures Kingston s'éveille. She was occasionally actress in films and theatre and played in Le Petit Trésor, with Steevy Boulay and Vincent Azé. Erika had two children : Julien (born in 1982) and Oudima (2003).
Her new single is set to be released this year, 2011.