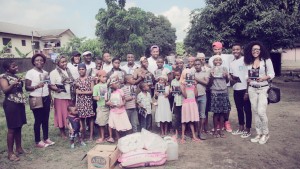 As we gear up for the premiere of "Rose on The Grave" ,  Syndy Emade's Blue Rain crew comprising popular entertainment figures Miss-K (Journalist), Tpana Wynchester (Model), (Actress, entrepreneur, producer) and Agume Dirane (Model) visited the Limbe orphanage in Bota.
They had alot of fun as the orphans shared with them their endless dreams and aspirations as well as their worries.
"Chasing Tales" producer  Frank Sire also joined the crew in paying this warm visit.  What a bunch of privilege and blessings for the kids.