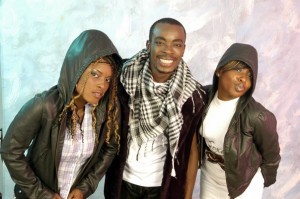 Winners of Nescafe African Revelation 2007, BAAM will be launching their debut album on the 17th of April 2010 at Alliance Franco Camerounaise,Buea.It is already well  packaged and ready for the market.
The album is dubbed "Arise Africa" and contains songs like  BAAM Prayer, Bounce to This, Arise Africa, Dance to My Culture, Stand Up, Be Strong, Wind Break and Twist and Paddy Man.
BUY NOW!!
BAAM won the prestigious trophy in 2007 in Abidjan and profited from a single sponsored by TRACE TV "Stand up" which received massive airplay and caught the hearts of millions of fans across the world.
After the launching of the album, BAAM will embark on a six African countrries tour (27 April to 17 July).
Good luck!!
Contact:info@cy-entertainment.com